Good ideas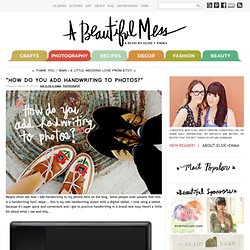 "How do you add handwriting to photos?"
People often ask how I add handwriting to my photos here on the blog. Some people even assume that this is a handwriting font! Nope... this is my real handwriting drawn with a digital tablet.
These cute & funky felt Rainbow decorations have been designed and made with love. They are made with a wool blend felt that is so soft and colourful. Each little rainbow is handmade & appliqued with sparkling gold thread.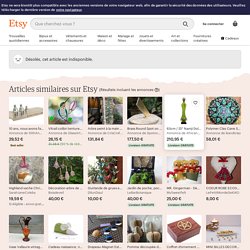 Just Hanging Around Rainbow Funky Felt by therainbowroom on Etsy
Hi there! It's Viviana! Elsie asked me to share a cute plush DIY today for Tricks + Treats and I made this little bird just for you.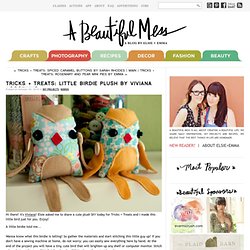 keboniko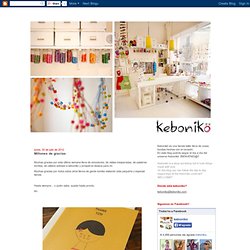 Para andar nuevos caminos hay que dejar otros atrás... aunque a veces nos duela un poco. El 28 de julio Keboniko cerrará sus puertas, y yo en septiembre empezaré una nueva etapa vital, llena de retos, proyectos y nuevas experiencias. Han sido casi 5 años rodeada de cosas bonikas, de gente maravillosa y de una vida sencilla y pequeña en Gràcia.
Para este mes tan raruno (semana santa en medio) hemos preparado muchos talleres nuevos para que no os aburráis y aprendáis mil cosas útiles. Tanto si estás en Bcn o vienes de visita eres bienvenido/a! Iniciación a la costura: Monedero con cremallera En este taller para principiantes totales aprenderás a usar la máquina de coser para realizar proyectos básicos. Realizaremos un monedero/estuche con cremallera para que conozcas las herramientas principales de una máquina de coser y salgas con tu primera obra bajo el brazo! Duración: 3 horas y media.Profesora: Emma Pardos, diseñadora de Mia.Nivel: principiantes totales.Precio: 45 euros con material incluido (tela, hilos, cremallera...)Fecha: Miércoles 9 de abril de 17h a 20.30h.
Duduá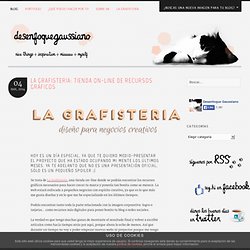 ¡¡¡Pues muchas cosas nuevas y emocionantes!!! Para empezar supongo que ya habréis visto las nuevas páginas que hay en la web aparte del blog. Si no estáis content@s con la imagen de vuestro blog, queréis una nueva más profesional o no sabéis por donde empezar, o quizá necesitéis un logo o una imagen corporativa os puedo ayudar! Podéis ver algunos de mis trabajos en el apartado portfolio y en ¿qué puedo hacer por tí? más cositas en las que os puedo ayudar. Para cualquier duda me podéis enviar un e-mail a elsa@desenfoquegaussiano.com
Desenfoque gaussiano · Nice things, handmade, design & inspiration
U-handblog: Purse & Bag Tutorials & How Tos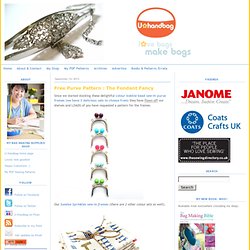 Coo blimey! Who will side with who in the UK General 2010 election. My packed suitcase is packed and ready in the hallway just in case. And yep I did vote. Whilst they squabble amongst themselves how about making this large and lovely purse?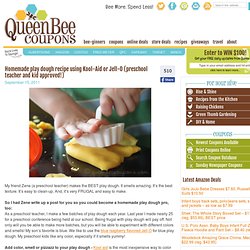 My friend Zene (a preschool teacher) makes the BEST play dough. It smells amazing. It's the best texture.
Homemade play dough recipe using Kool-Aid or Jell-O (preschool teacher and kid approved!) : Queen Bee Coupons & Savings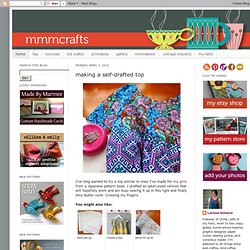 Cute gift tags are fun. Y'all know I love making gift tags that double as cards (like this and this). I'm all about two birds with one stone.
mmmcrafts
Welcome to A Beautiful Mess! We're Elsie Larson and Emma Chapman. We're sisters. Together we own A Beautiful Mess, a women's lifestyle company focused on creating happiness every day through a homemade lifestyle. On this blog we share home decor projects, recipes, and crafts, as well as bits of our life here in Missouri. In addition to writing A Beautiful Mess, we created a bestselling photo editing app (also called A Beautiful Mess) and we teach online classes at Shop A Beautiful Mess.