Good ideas
"How do you add handwriting to photos?" People often ask how I add handwriting to my photos here on the blog.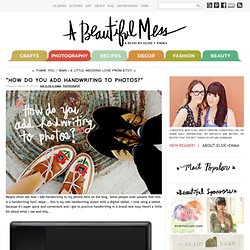 Some people even assume that this is a handwriting font! Nope... this is my real handwriting drawn with a digital tablet. Just Hanging Around Rainbow Funky Felt by therainbowroom. These cute & funky felt Rainbow decorations have been designed and made with love.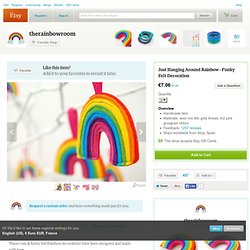 They are made with a wool blend felt that is so soft and colourful. Each little rainbow is handmade & appliqued with sparkling gold thread. These handmade decorations like to hang around in all kinds of places, from your bag, your keys, your clothes,around the house. Tricks + Treats: Little Birdie Plush by Viviana Agostinho.
Hi there!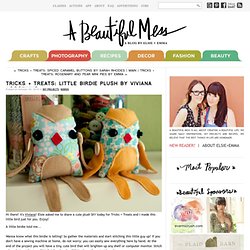 It's Viviana! Elsie asked me to share a cute plush DIY today for Tricks + Treats and I made this little bird just for you. Keboniko. Duduá. Desenfoque gaussiano · Nice things, handmade, design & inspiration. U-handblog: Purse & Bag Tutorials & How Tos. Coo blimey!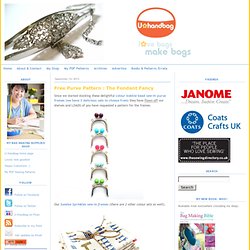 Who will side with who in the UK General 2010 election. My packed suitcase is packed and ready in the hallway just in case. And yep I did vote. Whilst they squabble amongst themselves how about making this large and lovely purse? Homemade play dough recipe using Kool-Aid or Jell-O (preschool teacher and kid approved!) : Queen Bee Coupons & Savings. My friend Zene (a preschool teacher) makes the BEST play dough.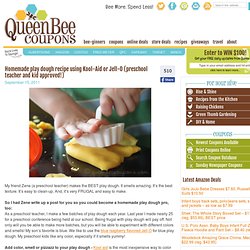 It smells amazing. It's the best texture. Home. Mmmcrafts. About A Beautiful Mess. Welcome to A Beautiful Mess!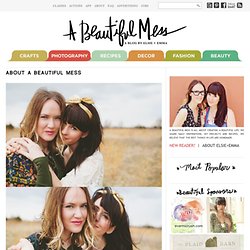 We're Elsie Larson and Emma Chapman. We're sisters. Together we own A Beautiful Mess, a women's lifestyle company focused on creating happiness every day through a homemade lifestyle. On this blog we share home decor projects, recipes, and crafts, as well as bits of our life here in Missouri. In addition to writing A Beautiful Mess, we created a bestselling photo editing app (also called A Beautiful Mess) and we teach online classes at Shop A Beautiful Mess. Plush Business.
---