Fashion / beauty
Putting Me Together: Building a Remixable Wardrobe, Part 1: Reimagining Clothes. Thank you for all of the great responses you guys sent in for the Wardrobe Help Survey!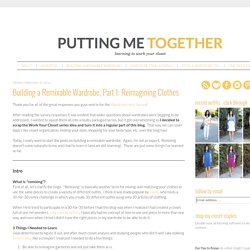 After reading the survey responses it was evident that wider questions about wardrobes were begging to be addressed. I wanted to squish them all into a neatly packaged series, but it got overwhelming so I decided to scrap the Work Your Closet series idea and turn it into a regular part of this blog. That way, we can cover topics like closet organization, finding your style, shopping for your body type, etc. over the long haul. K a t e l o v e s m e. Welcome | Black Milk Clothing. VogueWriter - Be creative in 3 lines. 3ate4. Inspiration for artists from Wildfox Couture - I LOVE WILDFOX. Longchamp - FARAWAY the Movie - Trailer 2. The Color Wheel: How to Combine Colors in your Wardrobe.
Ever wonder how some of your favorite fashionistas put colors together to create eye-catching and fabulously colorful outfits?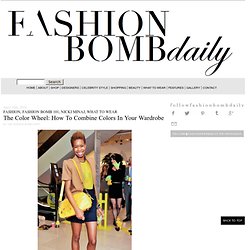 Well so does Fashion Bombshell Kendra who wrote in asking, "As a recessionista engineer, I cannot afford to buy a new wardrobe for the spring/summer. I have great pieces in my wardrobe already so I want to know how to make the most of my wardrobe by playing around with different color combinations. My mom gave me a color wheel as a gift. Unfortunately, I can't seem to get it right…" StyleBistro - Celebrity-Inspired Style, Fashion, and Beauty.
ZsaZsa Bellagio. Aureta's blog.
Life of Bohème. Style Scrapbook.
---