Empreinte web
Le 2 mars 2014, 17:48 dans Société par Monsieur Fredd Les 4 lois de la simplicité, et comment les appliquer à votre vie La simplicité est la sophistication ultime - Léonard de Vinci Note : cet article est une traduction de l'article The Four Laws of Simplicity, and How to Apply Them to Life de Léo Babauta. C'est donc lui qui s'exprime dans le... Lire la suite › Le 21 février 2014, 18:46 dans Société par Monsieur Fredd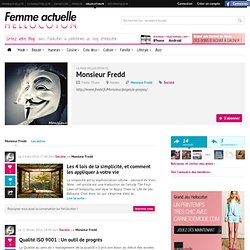 Monsieur Fredd - Découvrez son profil sur hellocoton
Monsieur Fredd on Vimeo
Monsieur Fredd
Outils de gestion de carrière - Maîtrisez votre carrière | Monster.fr
Monsieur Fredd
La Zik de Monsieur Fredd
Monsieur Fredd
Fredd Monsieur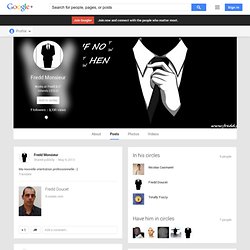 The numbers tell the story. Over the last twenty years, it is conservatively estimated that disasters have killed 1.3 million people, affected 4.4 billion and resulted in economic losses of $2 trillion. These are staggering numbers when you consider what it means in terms of missed opportunities, shattered lives, lost housing, schools and health facilities destroyed, cultural losses and roads washed away. More on the Rio+20 Conference: http://www.uncsd2012.org/rio20/ Infographic from UNISDR: http://www.unisdr.org/archive/27162
854320_caricature-diffusee-dans-l-emission-de-laurent-ruquier-le-7-janvier-2011
Facebook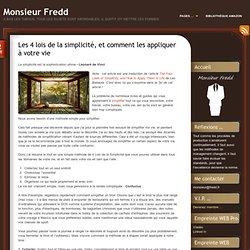 Monsieur Fredd
La simplicité est la sophistication ultime - Léonard de Vinci Note : cet article est une traduction de l'article The Four Laws of Simplicity, and How to Apply Them to Life de Léo Babauta. C'est donc lui qui s'exprime dans le "je" de cet article !
Fredd Doucet | Responsable Production / O.P.I.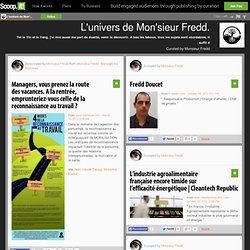 L'univers de Mon'sieur Fredd.
3, 4 ou 6 : mais combien y a t-il de piliers du développement durable ? Le développement durable ne se réduit pas à la protection de l'environnement comme beaucoup de personnes le pense encore. Non, le développement durable est une notion globale, à la croisement de piliers forts, que sont traditionnellement l'environnement, le social et l'économie. Un développement qui se dit « durable » doit impérativement prendre en compte ces 3 piliers de façon simultanée. Ces 3 piliers sont communément représentés ous forme de sphères, qui délimitent la zone d'influence. Ces zones s'entrecoupent, ce qui donne une représentation des piliers du développement durable comme suit :
L'univers de Monsieur Fredd
Fredd Mon'sieur (fredd): ses vidéos
Monsieur Fredd (monsieur_fredd) on Twitter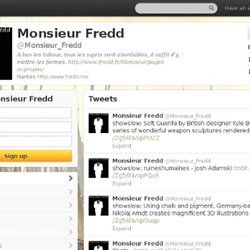 Have an account? Sign in New to Twitter? Join Today »