Web
Front End Development Guidelines. Accessibility What's Up, DOCTYPE?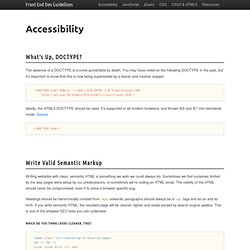 The absence of a DOCTYPE is a crime punishable by death. You may have relied on the following DOCTYPE in the past, but it's important to know that this is now being superseded by a leaner and meaner snippet. Ideally, the HTML5 DOCTYPE should be used. 40 Innovative UI Concepts from Dribbble. Innovative concepts, whether practical or imaginative, can help progress creatives and their work to the next level.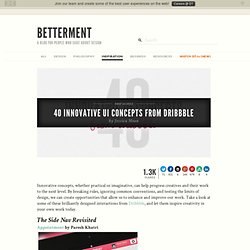 By breaking rules, ignoring common conventions, and testing the limits of design, we can create opportunities that allow us to enhance and improve our work. Take a look at some of these brilliantly designed interactions from Dribbble, and let them inspire creativity in your own work today. The Side Nav Revisited Appointment by Paresh Khatri. (27) What are some good projects/ideas in web development that a beginner can start with. (27) What are good resources which teach complete beginners Javascript.
Webdesign. 45 Incredibly Useful Web Design Checklists and Questionnaires - Smashing Magazine. Advertisement Designing websites can be a long and complicated process.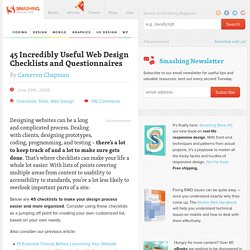 Dealing with clients, designing prototypes, coding, programming, and testing – there's a lot to keep track of and a lot to make sure gets done. That's where checklists can make your life a whole lot easier. 60 points à vérifier avant de mettre en ligne votre site web. La check-list des éléments à vérifier avant la mise en ligne de votre site Internet : contenu, mise en page et navigation, aspects fonctionnels et techniques, marketing/com et référencement.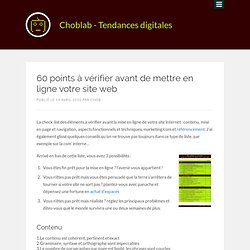 J'ai également glissé quelques conseils qu'on ne trouve pas toujours dans ce type de liste, par exemple sur la com' interne… Arrivé en bas de cette liste, vous avez 3 possibilités : Vous êtes fin prêt pour la mise en ligne ? How To Streamline your Website Building Process. Call me odd but I find that being robotic in my approach to work seems to have the best results when faced with repetitive tasks or the need to replicate results across the board.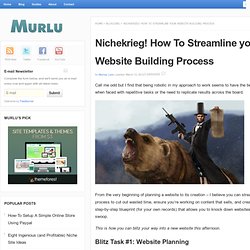 From the very beginning of planning a website to its creation – I believe you can streamline the process to cut out wasted time, ensure you're working on content that sells, and creating a step-by-step blueprint (for your own records) that allows you to knock down websites in a single swoop. This is how you can blitz your way into a new website this afternoon.
---