UI JS Jquery CSS
Every aspiring Web developer should know about the power of JavaScript and how it can be used to enhance the ways in which people see and interact with Web pages. Fortunately, to help us be more productive, we can use the power of JavaScript libraries, and in this article we will take a good look at jQuery in action. What Is jQuery?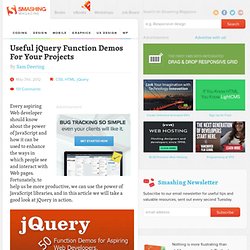 Essential JavaScript And jQuery Design Patterns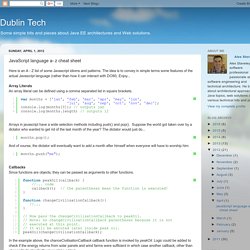 JavaScript language a- z cheat sheet
Here is an A - Z list of some Javascript idioms and patterns. The idea is to convey in simple terms some features of the actual Javascript language (rather than how it can interact with DOM). Enjoy...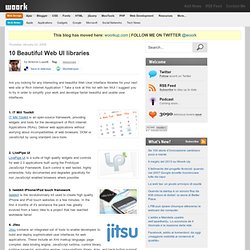 Are you looking for any interesting and beautiful Web User Interface libraries for your next web site or Rich Internet Application ? Take a look at this list with ten WUI I suggest you to try in order to simplify your work and develope faster beautiful and usable user interfaces. 1. IT Mill ToolkitIT Mill Toolkit is an open-source framework, providing widgets and tools for the development of Rich Internet Applications (RIAs). Deliver web applications without worrying about incompatibilities of web browsers, DOM or JavaScript by using standard Java tools.
New web development frameworks are sprouting out at a more rapid pace than anyone could keep up with. In this article, we are going to determine how to decide on a framework for creating your next, hot web application. In this current day and age, pushing out a finished, polished application well before your competitor is key.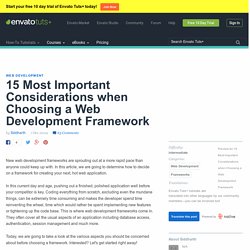 15 Most Important Considerations when Choosing a Web Development Framework
Which CSS Grid Framework Should You Use for Web Design?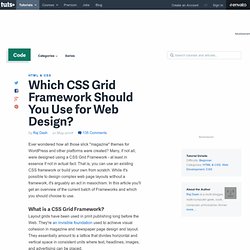 Ever wondered how all those slick "magazine" themes for WordPress and other platforms were created? Many, if not all, were designed using a CSS Grid Framework - at least in essence if not in actual fact. That is, you can use an existing CSS framework or build your own from scratch.
A Detailed Introduction Into the 960 CSS Framework | Nettuts+ on blip.tv
With the advent of JavaScript/web application libraries and frameworks, it's become much easier to build interactive components for a site. For the folks that are unfamiliar with jQuery – it's a popular, high-performance and compact JavaScript library/framework. jQuery will allow you to reduce the amount of code you have to write for dealing with browser quirks, memory leaks, and repetitive code by providing you with a set of useful and highly-optimized and thoroughly-tested functions and methods. In this article, we explore the strengths of jQuery in letting web developers create impressive client-side-based user interface components. Whether you're looking for a particular interface/interaction pattern built on Query (like module tabs or modal windows) or you simply want to learn the library by engaging in step-by-step tutorials – you should be able to find something here for you. Modal Windows 1.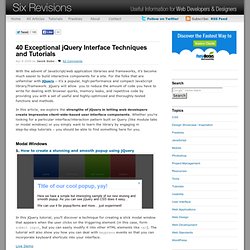 There are times when a web designer will have to emulate a desktop program for the web. There are many tools written in javascript which can help web designers create consistent user interfaces for the web. Designing web elements and letting the browser determine how it should look may be okay for some projects but for products where branding is important additional help is required to keep the look consistent regardless of the web browser used.
21+ Javascript WebUI Frameworks | Designtopx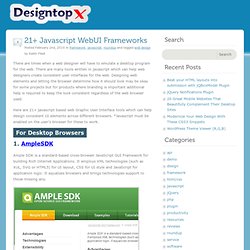 Almost all of the rich web applications that we currently see on the web today rely on a subtle set of UI controls, libraries or frameworks (or toolkits) that not only greatly simplify application development, they also provide a consistent, reliable, and highly interactive User Interface. What more could you ask for? Currently, there are a wide varied range of Web UI frameworks covering varied languages – for today we will focus on Javascript Web UI libraries. Not all libraries are suited for every project, but most developers will still rely on a single UI framework, a faithful friend they will always turn to in times of need… …so, if you are looking for a fresh UI outlook, below you will find the best 15 Javascript Web UIs, all offering, to different degrees, solutions.
40+ Techniques of JavaScript for Professional UI
Home » JavaScript » 40+ Techniques of JavaScript for Professional UI This is specialy for Web Developers and Design because they are using very much JavaScript for make more beautiful our UI (User Interface), JavaScript can add a lot of special effects that can really improve the user's experience, when we add JavaScript/jQuery techniques that add an extra dose of usability to any UI (User Interface/Webpage), we need to figure out more practical styling and functionality techniques to provide a great user experience, in whole package we are using CSS, JavaScript and jQuery libraries. SocialHistory.js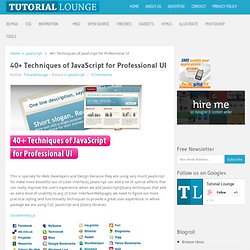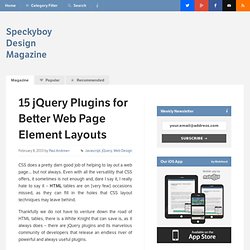 15 jQuery Plugins for Better Web Page Element Layouts
CSS does a pretty darn good job of helping to lay out a web page… but not always. Even with all the versatility that CSS offers, it sometimes is not enough and, dare I say it, I really hate to say it – HTML tables are on [very few] occasions missed, as they can fill in the holes that CSS layout techniques may leave behind. Thankfully we do not have to venture down the road of HTML tables, there is a White Knight that can save is, as it always does – there are jQuery plugins and its marvelous community of developers that release an endless river of powerful and always useful plugins.
(27) What are the best frameworks for building an AJAX based web app
What is the best open-source CSS framework
If You are creating and developing new web-sites regularly, You should think about template creation, collecting useful code snippets and things like that. You should do that to fasten development process, so I think You could use, change, optimize these template files to Your needs, however check out licence terms, if You use these for business purposes. However this is very generalize list for now, to clear out the best from the best sites. Use them well!
12 Really Handy CSS Framework, Template And Snippet Sites For Smart Web Designer