Django
python - Favorite Django Tips & Features
- Luc Stepniewski's Blog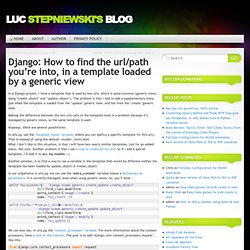 In a Django project, I have a template that is used by two urls, which is quite common (generic views, using 'create_object' and 'update_object').
Pinax : Package List
Confusion in Django admin, static and media files
From Designer to Django'er in Six Weeks — djangocon-2011-notes v0.0.1 documentation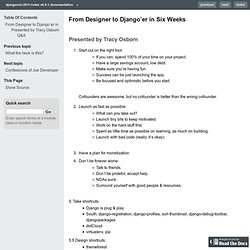 Start out on the right foot: If you can, spend 100% of your time on your project.
Django
A Guide to Testing in Django - Toast Driven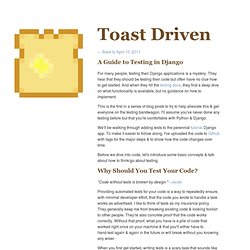 For many people, testing their Django applications is a mystery.
There are quite a few great little tricks and tips one could use on their Django projects that would speed up development and save many headaches in the long run. From basic to obscure, these tips can help any skill-level of programmer become more adept with Django and all it's glory. Django is an excellent framework for Python.
10 Insanely Useful Django Tips
Tutorials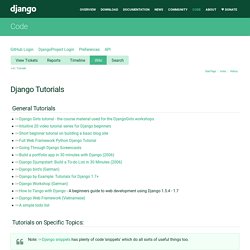 General Tutorials ¶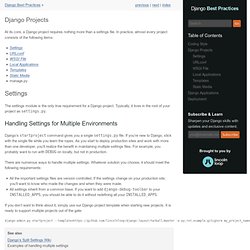 Django Projects — Django Best Practices
Location
How and why to use django-mongokit (aka. Django to MongoDB) - Peterbe.com
Here I'm going to explain how to combine Django and MongoDB using MongoKit and django-mongokit . MongoDB is a document store built for high speed and high concurrency with a very good redundancy story.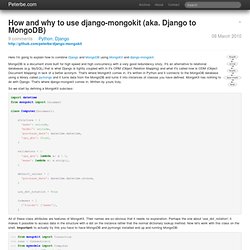 Django by Example: Django Tutorials - Django by Example
Django - Static file not found
(48) What does an ideal Django workflow setup look like
Welcome to the online version of The Django Book, a free book about the Django Web framework for the Python programming language. A note about this edition Welcome to the community edition of the Django Book!
Python — Kitchin Group Research Portal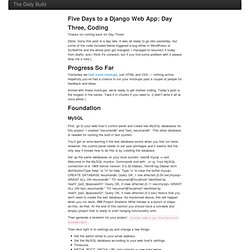 Five Days to a Django Web App: Day Three, Coding - The Daily Build
Thanks for coming back for Day Three!
Documentation de Django — Documentation de Django 1.1.1
This is a collection of patterns which we have found occurring commonly with Django. All of these either make collaboration easier, coding simpler or code more maintainable.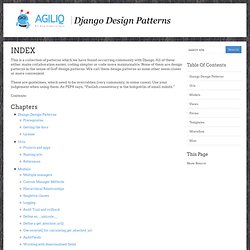 Index — Django Design Patterns