Background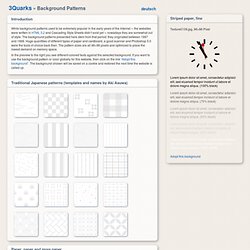 Background Patterns
While background patterns used to be extremely popular in the early years of the Internet ─ the websites were written in HTML 3.2 and Cascading Style Sheets didn't exist yet ─ nowadays they are somewhat out of style. The background patterns presented here stem from that period: they originated between 1997 and 1999.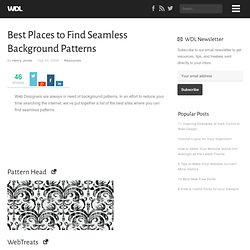 Web Designers are always in need of background patterns. In an effort to reduce your time searching the internet, we've put together a list of the best sites where you can find seamless patterns.
Best Places to Find Seamless Background Patterns | Resources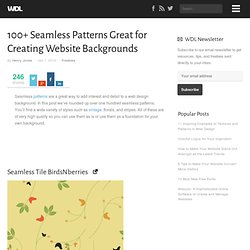 Seamless patterns are a great way to add interest and detail to a web design background.
A trend in web design that has been popular for a while, and still seems to be gaining momentum, is the use of big background images. It's an easy and effective way to add lots of interest to a design and set the overall tone with one photo or illustration.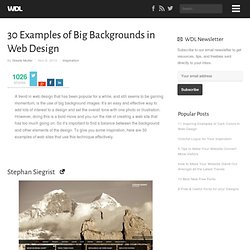 30 Examples of Big Backgrounds in Web Design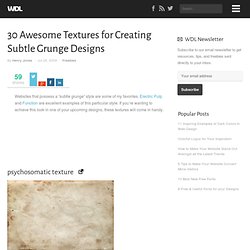 30 Awesome Textures for Creating Subtle Grunge Designs | Freebies
Websites that possess a "subtle grunge" style are some of my favorites. Electric Pulp and Function are excellent examples of this particular style.
25 Excellent Examples of Using Texture in Web Design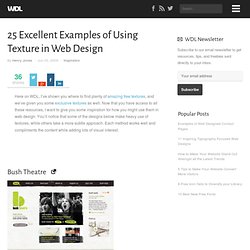 Here on WDL, I've shown you where to find plenty of amazing free textures , and we've given you some exclusive textures as well. Now that you have access to all these resources, I want to give you some inspiration for how you might use them in web design.
After showing you A Showcase of Clean White Web Designs a couple weeks ago, it's time for us to add some textured designs to our lists.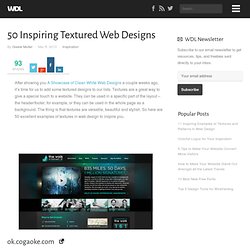 50 Inspiring Textured Web Designs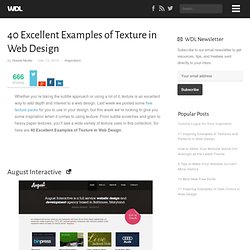 40 Excellent Examples of Texture in Web Design
Whether you're taking the subtle approach or using a lot of it, texture is an excellent way to add depth and interest to a web design.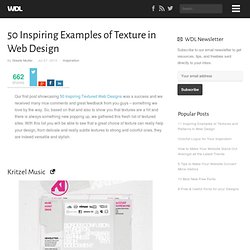 50 Inspiring Examples of Texture in Web Design
Our first post showcasing 50 Inspiring Textured Web Designs was a success and we received many nice comments and great feedback from you guys – something we love by the way. So, based on that and also to show you that textures are a hit and there is always something new popping up, we gathered this fresh list of textured sites. With this list you will be able to see that a great choice of texture can really help your design, from delicate and really subtle textures to strong and colorful ones, they are indeed versatile and stylish.
As you've probably figured out, I love designing with texture. I also love sharing textures here on WDL. When done properly, a texture used as a background can add depth and set the over all mood for a web design.
80+ Fresh New Textures for Creating Web Site Backgrounds | Freebies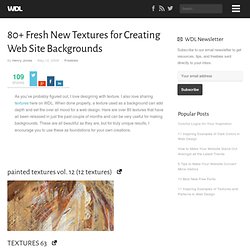 Web design has come a long way since its beginning, especially in terms of styling.
63 Impressive Website Background-Images: Trends, Resources and Tutorials - Noupe Design Blog
Apr 14 2008 Web designers compete to impress visitors with distinctive and appealing visual elements.