Blogs
Lana Del Rey's track 'National Anthem'. The video stars none other than ASAP Rocky. Lana Del Rey plays Jacqueline Kennedy and ASAP Rocky takes on the role of former U.S. President John F. Kennedy. A$AP Rocky wears a GANT Rugger white solid madras button-down shirt.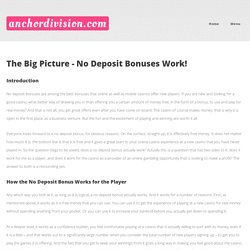 livin' fast.
GtheGentleman
Rag & Bone Official Blog | Collections created by award winning designers Marcus Wainwright and David Neville.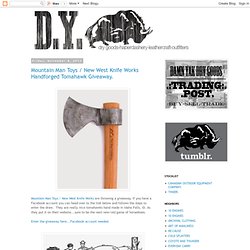 Damn Yak Dry Goods Co.
Writing this blog has provided me with plenty of unique opportunities. As you have read over the years, I have been on factory tours, met plenty of new friends and also have had the chance to try out new gear for camping and the outdoor lifestyle. When Andy and I put it out there that we were going to complete the Lower Missinaibi we were provided again with a great forum for trying out some new gear. Below you will find a few of our favorites from this trip.1. RucPac Hardcase Conversion Strap System ($112). This one of a kind piece of equipment is a really awesome idea.
Charred and Scruffed is a one to read, not only for grilling, not only for cooking meat, but for anyone interested in cooking, full stop. Perry Lang is keen on details, taking advantage of every opportunity to build flavour and texture. He encourages observation and the active participation in process. His techniques are innovative and, what's more, profoundly useful. I turn to it as often for reference as I do for recipes. The garage roof is getting new shingles, and one of the roofers smokes those skinny cigarillos.
seven spoons - main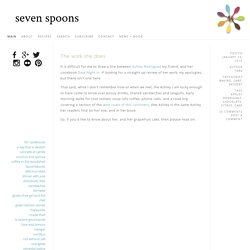 Posters in Amsterdam: an initiative by Jarr Geerligs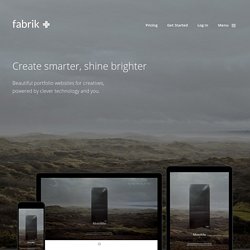 fabrik - coming soon
Subscriptions cost £69 a year. Try now Many themes for you to choose from and customise.
The Burning House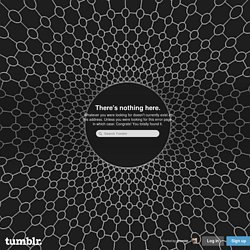 Name: Tara O'Brady Location: Niagara, Ontario, Canada Occupation: I cook a lot, and sometimes write about it. I take pictures, too. Website: www.sevenspoons.net List:
tom ayerst visual interest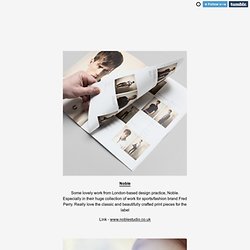 a-d Foundry We have mentioned this agency before, back when they were more of a commercial font foundry but a-d Foundry have had a re-brand and re-positioning, company and structure wise. They are now part of Family and their ethos is an independent type foundry which exclusively develop & publish bespoke typefaces for the graphic design industry. In their own words; "We are now much more of a bespoke design service, supporting other studios in typeface design and production. Its a very exciting time and we are honoured to be the sister studio of Family."
VISUAL AESTHETICS
MODERN TALKING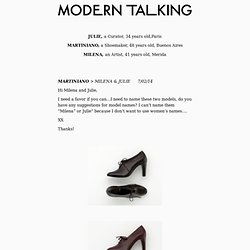 JULIE, a Curator, 34 years old,Paris MARTINIANO, a Shoemaker, 48 years old, Buenos Aires MILENA, an Artist, 41 years old, Merida Hi Milena and Julie, I need a favor if you can…I need to name these two models, do you have any suggestions for model names?
Geek, c'est Chic
PDN Photo of the Day
LogoPond - Identity Inspiration -
SeptemberIndustry - The best in international graphic design and everything in between every week.
Clement Delepine
THEARTISTANDHISMODEL
V&A Discovering Architecture Guide April 13th, 2014 London's world-famous Victoria & Albert Museum has an outstanding educational department, working on diverse programmes to inspire families and young people during their visits to the site.
Après de nombreux mois sans article, Julie et moi reprenons forgotten-hopes en main :D Et un premier article avec un peu de promo perso pour annoncer la sortie du jeu iPhone qu'on prépare depuis quelques mois : My laboratory . C'est un puzzle game qui consiste à créer plein d'éléments en partant des 4 basiques : l'air, l'eau, le feu et la terre. On a également fait une version démo sur le site officiel pour que vous puissiez tester : http://mylaboratorygame.com/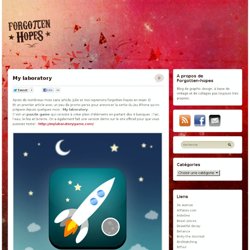 Forgotten-hopes.com, blog de graphisme, culture retro et vintage
Friends of Type
Observatory By Samantha García Steven Heller kicked off the inaugural "Power of Design" ideas festival in Miami Beach at an altar of Art Deco palm fronds. MC'ed by inimitable writer Kurt Andersen, this year's festival theme was "Complaints." Participants had the mandate to drive "dissatisfaction to action" and "action to innovation" over four days at the Wolfsonian Museum.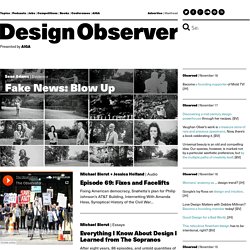 Design Observer
CollegeHumor - Funny Videos, Funny Pictures, Funny Links!
Type Supply is thrilled to introduce Marigny, a casual typeface drawn with serious typography in mind. The family combines the warmth of handwriting, the confidence of lettering and the functionality of typography into one package. It is distinctively legible at small sizes and lovingly distinctive at large sizes. Marigny is an excellent choice for any text that you want to feel warm, welcoming and alive. Marigny has five weights, each with expressive italics, plus all styles have a variety of OpenType features that enable truly sophisticated typography. It looks as great on screen as it does in print.
modern graphic design inspiration blog + vintage graphics resource
Ben Pieratt's Blog
AisleOne - Graphic Design, Typography and Grid Systems
Hovering Art Directors
Svpply
Display | Modern Graphic Design Collection and Rare Graphic Design Books
design work life
J450N
Identity Designed
Project Thirty-Three
Project Thirty-Three is our shrine to circles and dots, squares and rectangles, and triangles, and the designers that make these simple shapes come to life on vintage album covers.This site was created and is maintained by Jive Time Records, a Seattle-based store specializing in used vinyl. Visit our other record related galleries.Jive Time Records buys and sells quality used records in Seattle and surrounding areas. Do you have a record collection for sale?
&seen
THE DAY AFTER YOU DIE
BOOOOOOOM! - CREATE * INSPIRE * COMMUNITY * ART * DESIGN * MUSIC * FILM * PHOTO * PROJECTS
New York Magazine -- NYC Guide to Restaurants, Fashion, Nightlife, Shopping, Politics, Movies
New York Magazine: NYMag.com is the online counterpart to New York Magazine
we love typography. a place to bookmark and savour quality type-related images and quotes
Type Theory
Fubiz™
NOWMANIFEST | HOME
File Magazine
PARIS-LA —
Home | Sheaff : ephemera
Web design and Logo design by Brian Hoff
Newspaper Club | Helping people to make their own newspapers
Disparity by Design
Girls got a face like murder
Logo Research, Logo Inspiration and Corporate Identity at LogoLounge.Com
mood proekt
THEM THANGS
TheFWA
BYOB (Bring Your Own Beamer)
Below The Clouds
the style files
Daaamn, she's hotttt.
PLASTOLUX ?keep it modern?
nonclickableitem
not_available
not_available
Girls got a face like murder
Buffon's Beasts
NOWNESS
WORKIN' FOR THE MAN
designers of tumblr
Where is the Cool?
It's Nice That
TED: Ideas worth spreading
Ready for the House
industrial design courses ? designboom
Gridness
Bitique - Another Graphic Design Blog
Focus Hub Photography Courses Blog
Noisy Decent Graphics
HEDI SLIMANE
YOUNG GALLERY
广告放肆
Dezeen architecture and design magazine
UnderConsideration LLC
Design You Trust
Home Page
Wolda - the worldwide logo design annual
THE CULTURAL JACKDAW
manystuff.org ? Graphic Design daily selection
Mary & Matt
The best in advertising, design, and digital creativity - AdCritic
Kate Pruitt
LetterCult — Custom Letter Culture
materialicious
the artist and his model
Computerlove - Contemporary Creative Culture
What are you working on?
Reform & Revolution / R²
Creative Review -
Main Menu
Visuelle.co.uk
The Book Cover Archive