Blogs
livin' fast.
GtheGentleman
Rag & Bone Official Blog | Collections created by award winning designers Marcus Wainwright and David Neville.
Damn Yak Dry Goods Co.
seven spoons - main
Posters in Amsterdam: an initiative by Jarr Geerligs
fabrik - coming soon
The Burning House
tom ayerst visual interest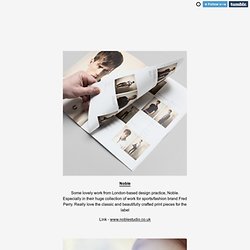 a-d Foundry We have mentioned this agency before, back when they were more of a commercial font foundry but a-d Foundry have had a re-brand and re-positioning, company and structure wise. They are now part of Family and their ethos is an independent type foundry which exclusively develop & publish bespoke typefaces for the graphic design industry. In their own words; "We are now much more of a bespoke design service, supporting other studios in typeface design and production. Its a very exciting time and we are honoured to be the sister studio of Family."
VISUAL AESTHETICS
MODERN TALKING
Geek, c'est Chic
PDN Photo of the Day
LogoPond - Identity Inspiration -
SeptemberIndustry - The best in international graphic design and everything in between every week.
Clement Delepine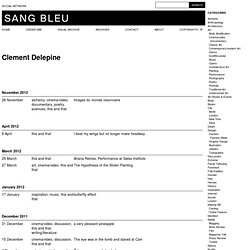 Immanuel Kant: A word with you dear neighbor, you were going out? Birdkeeper: Great philosopher, the honor of your visit will serve in advance to excuse my lateness Immanuel Kant: I will come again Birdkeeper: Please, do me this kindness. Martin, my lad! Bring us some Franconia wine, the best.
THEARTISTANDHISMODEL
Forgotten-hopes.com, blog de graphisme, culture retro et vintage
Friends of Type
Design Observer
Karlheinz Weinberger Preview – SI Journal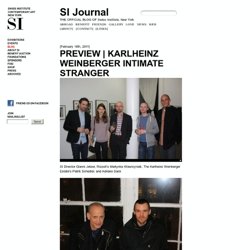 SI Director Gianni Jetzer, Rizzoli's Martynka Wawrzyniak, The Karlheinz Weinberger Estate's Patrik Schedler, and Adriano Sack John Waters and guest Holli Smith and Collier Schorr Richard Kern and Bela Borsodi Artists Olivier Mosset and John Tremblay
CollegeHumor - Funny Videos, Funny Pictures, Funny Links!
modern graphic design inspiration blog + vintage graphics resource
Ben Pieratt's Blog
AisleOne - Graphic Design, Typography and Grid Systems
Hovering Art Directors
Svpply
Display | Modern Graphic Design Collection and Rare Graphic Design Books
design work life
J450N
Identity Designed
Project Thirty-Three
&seen
THE DAY AFTER YOU DIE
BOOOOOOOM! - CREATE * INSPIRE * COMMUNITY * ART * DESIGN * MUSIC * FILM * PHOTO * PROJECTS
New York Magazine -- NYC Guide to Restaurants, Fashion, Nightlife, Shopping, Politics, Movies
New York Magazine: NYMag.com is the online counterpart to New York Magazine
we love typography. a place to bookmark and savour quality type-related images and quotes
Type Theory
Fubiz™
NOWMANIFEST | HOME
File Magazine
PARIS-LA —
Home | Sheaff : ephemera
Web design and Logo design by Brian Hoff
Newspaper Club | Helping people to make their own newspapers
Disparity by Design
Girls got a face like murder
Logo Research, Logo Inspiration and Corporate Identity at LogoLounge.Com
mood proekt
THEM THANGS
TheFWA
BYOB (Bring Your Own Beamer)
Below The Clouds
the style files
Daaamn, she's hotttt.
PLASTOLUX ?keep it modern?
nonclickableitem
not_available
not_available
Girls got a face like murder
The plates below are from a 1753 work called 'Collection des Animaux Quadrupèdes' which forms part of an enormous 36-volume series ('Histoire Naturelle') issued over a forty year period by Georges-Louis Leclerc, Comte de Buffon. [Click through for larger versions of these moderate-to-heavily stylised hand-coloured quadruped engravings. The illustrations are slightly cropped from the full-page layout and some of the background spotting has been reduced. Mouse over for best guessed animal title. Let me know if you disagree or have a better idea.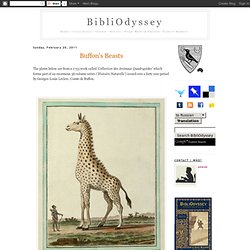 Buffon's Beasts
NOWNESS
WORKIN' FOR THE MAN
designers of tumblr
Where is the Cool?
It's Nice That
TED: Ideas worth spreading
Ready for the House
industrial design courses ? designboom
Gridness
Bitique - Another Graphic Design Blog
For his latest multimedia project, Natural Beauty, James Houston was inspired by nature, with the goal to raise awareness and funds for the environment and sustainable living. Created in partnership with MILK and environmental non-profit Global Green USA, Houston shot a series of striking portraits featuring some of the world's leading celebrities and models including Adrian Grenier, Emma Watson, Christy Turlington, Karlie Kloss, Arizona Muse and Anja Rubik. These captivating photographs bring together two of Houston's great passions – the human form and the natural world. Below are the lovely beauty photographs of Emma Watson and a behind-the-scenes video of the whole project. We also feature the behind-the-scenes video on our compare videos section.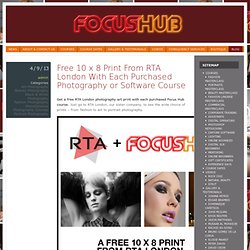 Focus Hub Photography Courses Blog
Noisy Decent Graphics
HEDI SLIMANE
YOUNG GALLERY
广告放肆
Dezeen architecture and design magazine
UnderConsideration LLC
Design You Trust
Home Page
Wolda - the worldwide logo design annual
THE CULTURAL JACKDAW
manystuff.org ? Graphic Design daily selection
Mary & Matt
The best in advertising, design, and digital creativity - AdCritic
Kate Pruitt
LetterCult — Custom Letter Culture
materialicious
the artist and his model
Computerlove - Contemporary Creative Culture
What are you working on?
Reform & Revolution / R²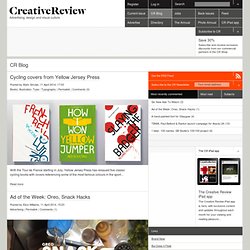 It's January, so it's time to think about detoxing and joining a gym. What a drag. To help you along, Karmarama has created this new spot for Virgin Active, which ignores all the usual gym bunny clichés and instead features a man riding a motorbike furiously across an African desert in his pants... Southwold design agency Spring has launched a new website and campaign for Visit Suffolk offering tourists an interactive guide to the county
Creative Review -
Main Menu
Visuelle.co.uk
The Book Cover Archive