Recipes
Get flash to fully experience Pearltrees
Crispy Kale Chips December 22, 2011 Mary Anne here.
EatingWell If you're looking for an afternoon pick-me-up and trying to stay on a diet, a good snack can help you stay on track. Research suggests that nutritious snacks can stave off hunger by stabilizing blood sugar -- which may help you eat more sensibly at mealtimes.
Budget eating
iVillage <a href="http://ad.doubleclick.net/jump/nbcu.ivil.food/main___subsubtopic_tile-1;chan=food;cont=subsubtopic;sect=main;pageid=31960;dcopt=ist;tile=1;pos=1;sz=728x90,970x66;ord=123456a?"
Eating out is becoming a more and more popular phenomenon. With fast food taking only minutes out of a day and costing a few dollars, it can be convenient. Likewise, fine dining is also on the rise and can put a considerably larger dent in your wallet.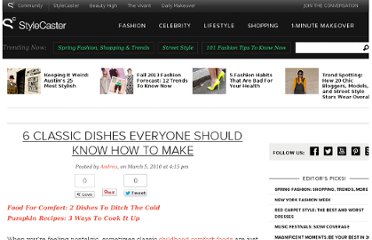 Food For Comfort: 2 Dishes To Ditch The Cold Pumpkin Recipes: 3 Ways To Cook It Up When you're feeling nostalgic, sometimes classic childhood comfort foods are just the trick. The problem is– what do you do if Mom isn't around to feed you? Put down that phone and forget about another night of greasy Chinese food , because we have a solution.
Say hello to The Alkaline Sisters , our guest posters for this week. The Alkaline Sisters is a beautiful blog run by two sisters – Julie and Yvonne – who both have changed their lives from inside and out, by eating alkaline foods. If you are not familiar with the alkaline diet you can learn more about it on their blog .