DESIGN
Matali Crasset. Les fourmis bleues - Atelier de création de luminaire à Rezé. Sommaire du numéro #11. Dès son lancement en 2010, Snatch Magazine s'est immédiatement imposé par son ton et son esprit « incisif, informatif, amusant et hors-norme ».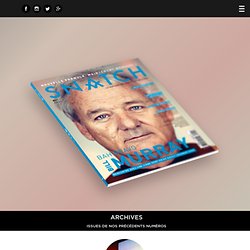 Snatch Magazine réaffirme son statut de magazine Objet; on le lit, on le montre, on en parle, on le relit et on le garde. Avec une pagination entre 148 et 210 pages, une ligne éditoriale percutante, une volonté d'aller au bout des choses en se rendant sur le terrain et une direction artistique pointue, Snatch est actuellement le magazine le plus complet des jeunes actifs urbains. Snatch Magazine lance une nouvelle formule mensuelle. Mathieu Lehanneur. Stefan Diez. Jongeriuslab. Ron Arad - Ron Arad Architects. FFFFOUND!
LED lighting - The LED Lightshow : Lightover. Mobilier contemporain (tables, tables basses, bureaux…) en Béton Lège® - Agencement sur mesure en béton - Concrete by LCDA. Salone del mobile. CARREAUX DE MUR PORCELANOSA. Céramique. Rubinetti. Chair Blog — Chairs, Chair Designers and Chair Manufacturers. .. VALDICHIENTI..
Timothee Cagniard (LaBoiteConcept): Ses vidéos, favoris et bien plus encore. Le Blog Retro Futur.
---