P+p
Studio Segre | Consulenza Cinematografica
Glide® Font on the Behance Network
EDP Branding, Advertising & TVC on the Behance Network
MCQ
Typography Sketchbooks (9781616890377): Steven Heller, Talarico Lita
Launching the Behance Creative Portfolio app on Android Last week we launched the long-awaited Creative Portfolio for Android. This app is a companion to the Behance Network app that allows you to showcase your Behance Portfolio anywhere, even without an internet connection.[...] Posting one screen per day from our upcomming iOS7 Behance app On Wednesday, the mobile team launched two updates for the Behance iOS apps.
Eric Paul Snowden is an artist and designer living in Brooklyn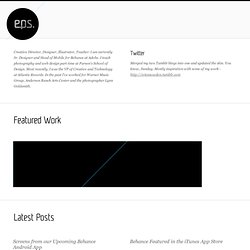 Swink | Print | Pete Yorn Poster
We created an identity system for Environmental Tillage Systems, more or less from the ground up. ETS makes giant tillage machines that look like beasts and are built to the same heavy duty standards you would expect from the construction, not agricultural, industry. We looked to create an identity system that had a lot of that same timeless, sturdy presence. For the corporate ETS identity, we took and refined their existing monogram.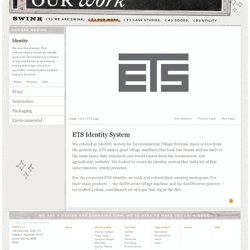 Swink | Identity | ETS Identity System
Ons werk | Twisted
Defringe - Cleaning up the edges.
Cliq Magnetic Clothing Hangers look far, far better than all the other coat hangers. Using strong earth magnets, the hangers magnetically attach to any metal rod or surface. Each hanger can support up to 2kg and are sold in sets of three.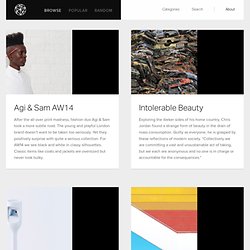 Un pueblo de antes | Elestudio
Fi-Mech Web Design | Studio Nudge | Charleston, SC Graphic & Web Design Studio
pe logo
SOASdesign | portfolio of Manya Kuzemchenko
Studio 8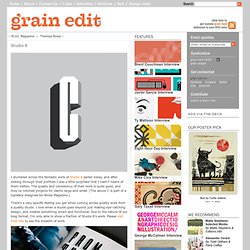 I stumbled across the fantastic work of Studio 8 earlier today, and after looking through their portfolio I was a little surprised that I hadn't heard of them before. The quality and consistency of their work is quite good, and they've notched projects for clients large and small. (The above C is part of a typeface designed for Wired Magazine.) There's a very specific feeling you get when coming across quality work from a quality studio. I love when a studio goes beyond just making eye-catching design, and creates something smart and functional. Due to the nature of our blog format, I'm only able to show a fraction of Studio 8′s work.
Velcro Suit - The Graphic Design and Illustration of Adam Hill
:: GABRIEL BLANCO ::
A.R.E.A. Aragonesa de Representaciones Artísticas
éboracast: agencia casting, representantes de actores y actrices. Rosa Álvarez, Fran Peleteiro, Carolina Vázquez, Antonio Mourelos, Xosé Manuel Olveira Pico, María Bouzas, Sonia Méndez, Estíbaliz Veiga, Alejandro Carro, Xabier Deive, Isabel Risco, Federic
ébora cast nace a finales del año 2009 de la mano de tania reixaEsta dirección de correo electrónico está siendo protegida contra los robots de spam. Necesita tener JavaScript habilitado para poder verlo. y maría liañoEsta dirección de correo electrónico está siendo protegida contra los robots de spam. Necesita tener JavaScript habilitado para poder verlo. , primera ayudante de dirección y directora de producción respectivamente que deciden unir su experiencia profesional y su ilusión para promocionar actores. el trato personal y la atención constante son las señas de identidad de ébora cast.