P+p
Studio Segre | Consulenza Cinematografica. Glide® Font on the Behance Network. EDP Branding, Advertising & TVC on the Behance Network. Design, Art Direction & illustration for a rebranding of EDP, an energy company in Portugal.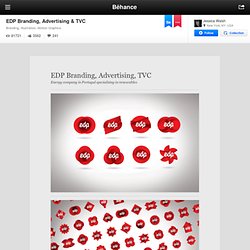 At Sagmeister Inc, we designed a new identity for EDP along with a TV commercial, ad campaign, screensavers, motion sensitive and sound sensitive posters, iPad and iPhone games, social media campaigns and more. The identity is designed from four simple shapes: a circle, half circle, square and triangle which were layered to create hundreds of logos and illustrations which can combine to tell the story of the EDP brand. Download the ipad app for free: Creative Direction: Stefan Sagmeister Art Direction & Design, Illustration: Jessica WalshDesign: Stephane Elbaz, Xavi Garcia, Michael Freimuth, Richard The. MCQ. Typography Sketchbooks (9781616890377): Steven Heller, Talarico Lita. Eric Paul Snowden is an artist and designer living in Brooklyn.
Swink | Print | Pete Yorn Poster. Swink | Identity | ETS Identity System. We created an identity system for Environmental Tillage Systems, more or less from the ground up.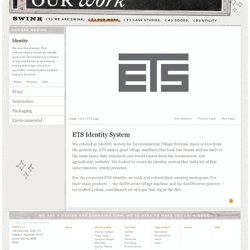 ETS makes giant tillage machines that look like beasts and are built to the same heavy duty standards you would expect from the construction, not agricultural, industry. We looked to create an identity system that had a lot of that same timeless, sturdy presence. For the corporate ETS identity, we took and refined their existing monogram. Ons werk | Twisted. Deze fullscreen video-website ontvangt de bezoeker in de culinaire, stijlvolle ambiance van Vestdijk 47.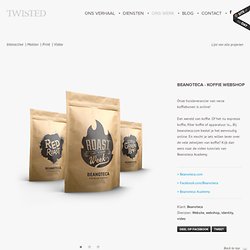 De eveneens door Twisted geproduceerde film wordt in HD kwaliteit, instant gestreamed. De site kan op geavanceerde wijze gebrowsed worden. Simpelweg mooie sfeerimpressies bekijken is ook een optie. De mobiele versie van de site ontbreekt uiteraard niet! > www.vestdijk47.nl. Home | Oi Polloi. Defringe - Cleaning up the edges.
Un pueblo de antes | Elestudio. Fi-Mech Web Design | Studio Nudge | Charleston, SC Graphic & Web Design Studio. Pe logo. SOASdesign | portfolio of Manya Kuzemchenko. Studio 8. I stumbled across the fantastic work of Studio 8 earlier today, and after looking through their portfolio I was a little surprised that I hadn't heard of them before.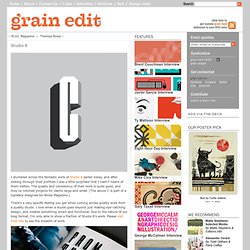 The quality and consistency of their work is quite good, and they've notched projects for clients large and small. (The above C is part of a typeface designed for Wired Magazine.) There's a very specific feeling you get when coming across quality work from a quality studio. I love when a studio goes beyond just making eye-catching design, and creates something smart and functional. Due to the nature of our blog format, I'm only able to show a fraction of Studio 8′s work. Velcro Suit - The Graphic Design and Illustration of Adam Hill. :: GABRIEL BLANCO :: A.R.E.A. Aragonesa de Representaciones Artísticas. Éboracast: agencia casting, representantes de actores y actrices. Rosa Álvarez, Fran Peleteiro, Carolina Vázquez, Antonio Mourelos, Xosé Manuel Olveira Pico, María Bouzas, Sonia Méndez, Estíbaliz Veiga, Alejandro Carro, Xabier Deive, Isabel Risco, Federic.
---