Funny
Mis chorradas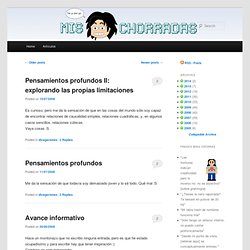 Es curioso, pero me da la sensación de que en las cosas del mundo sólo soy capaz de encontrar relaciones de causalidad simples, relaciones cuadráticas, y, en algunos casos sencillos, relaciones cúbicas. Vaya cosas :S Me da la sensación de que todavía soy demasiado joven y lo sé todo. Qué mal :S Hace un montonazo que no escribo ninguna entrada, pero es que he estado ocupadísimo y para escribir hay que tener inspiración ;)Cambios en esta temporada:
Bruce Lee_Be Water My Friend
NOTE: This AI learns from people - things said may seem inappropriate - use at your own riskPARENTS: Visitors never talk to a human - the AI knows many topics - use only with oversight Artificial Intelligence is communication. Natural language is universal. Evie talks using a combination of responses from Cleverbot and from Cleverscript. You could have an avatar with intelligent responses on your own site, apps or games. NOTE: Evie now *says things like this* correctly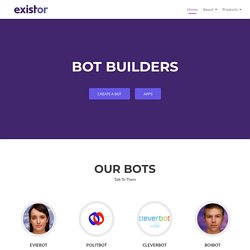 This... is... SPARTIFY!
Buen ejercicio realizado por Christophe Courtois donde junta cientos de carteles de cine por géneros y nos demuestra como la industria cinematográfica hollywoodense o ha perdido la creatividad o tiene muy marcados ciertos estándares a la hora de diseñar los carteles de sus películas como por ejemplo el uso de fotografías en blanco y negro con detalles en fuego para películas de acción con muchas explosiones, que las películas con cierto contenido sexual para adolecentes siempre emplean fotografías de piernas como elemento principal o que es muy común encontrar closeups de ojos en películas de terror. Muy recomendable que visiten el link y venan todos los ejemplos. Hollywood Posters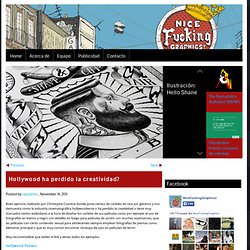 Hollywood ha perdido la creatividad?
Virtual Academia Española
Culofino Persona que siente terror y gran asco a que su culo toque cualquier otro retrete que no sea el suyo [...] yeri carmen expresión que se utiliza para nombrar a la colega de turno. Solo es valido para el sexo femenino. [...] popocho Can, perro, todo lo que se asemeje a la raza de "Lassie". [...] Mayoría Absolutista. En democracia, dícese de las mayorías absolutas que provocan comportamientos absolutistas en los g [...]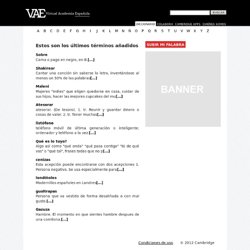 Client: How will you get the voice over the video? Me: You mean the narration? We film the video portion and lay an audio track over it in post production. Client: What?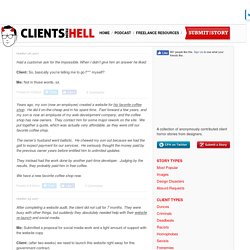 Enchingatown!
Broadcast Yourself
Weird Things About Me | A place to share those weird things that you do…