ArtCrafts
Introduction to Silver Clay — Kate's Jewellery Making Blog
Last week i didn't post the weekly blog, the reason was i had amazing 3 days on that weekend. i took a 3 days course with 2 Israeli men, both of them did the impossible - one of them is Eran Stern who quit a very promising job in Intel to fulfill his dreams, and the other one was Alon Ulman who a few years ago was on the verge of death when he twice survived a rare occurrence of a collapsed lung, he understood that if life had given him such clear boundaries he had to try and strech them a little. He started living life to the fullest and began competing to the "Iron Man" competition - sound crazy isn't it? well, it's all about breaking limits and outstanding results, and these were inspiring full 3 days! anyway, i came back with many ideas and lot's of thinking! makes you think and understand what you have and try living better...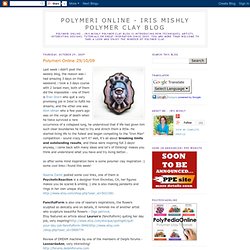 October 2009
Tatana polimerica fimo polymer clay joyeria jewelry spain españa - Texturas - Textures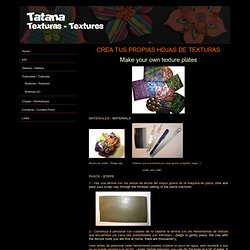 Make your own texture plates Restos de arcilla - Scrap clay Objetos que encuentres por casa (peine, bolígrafo, regla...) -
La mélancolie du caméléon
As we start again our journey around the polymer world, we head to the North - the season commands - right to Denmark to meet Eva Ehler. This young Web designer is fanatical about 3D. With her, even rendering the world must include this third dimension and this marks the original feature of her creations and is the recurrent theme for her inspiration.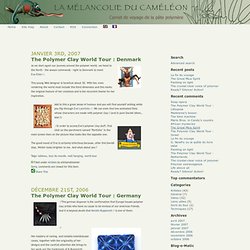 COLLECTABLE
These Ford/Forlano polymer beads were bought by collector Daphne Farago in 1999. She gave her collection to the Museum of Fine Arts Boston in 2006 and the Big Beads appear in the new book, Jewelry by Artists. The Big Bead series is still ongoing and both Dave and Steve create them, giving each bead character yet working toward a unified design. Steve says, "Dave's beads play with opaque and translucent cane slices to add depth to the surface, while my beads are always opaque and very graphic, emphasizing a variety of textures contrasting baked and re-baked clay layers."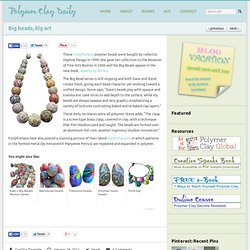 Big beads, big art
STEOTCH: Fine New England Needleart