Receitas e Tutoriais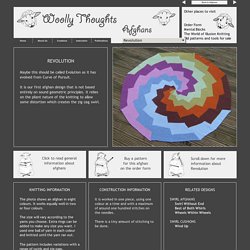 Revolution
Maybe this should be called Evolution as it has evolved from Curve of Pursuit. It is our first afghan design that is not based entirely on sound geometric principles. It relies on the pliant nature of the knitting to allow some distortion which creates the zig- zag swirl.
The Brown Stitch | Top-down Raglan Knitting | Underarm Divide Part 1
Because so many of my patterns are top-down raglans, I thought it would be beneficial to do a step-by-step tutorial for how to do the "underarm divide." The underarm divide is when you are done doing the raglan increases and it's time to separate the sleeves and join the back and front pieces of the garment together. It can seem confusing the first time you do it, so hopefully these photo instructions will help.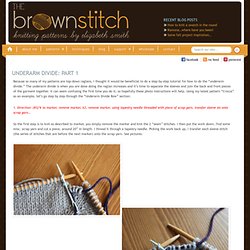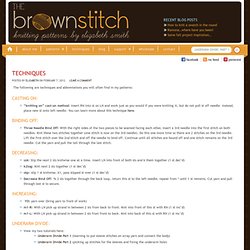 So after my recent photo tutorial on how to do the underarm divide for top-down raglans, there were some additional questions about how to then pick up stitches for the sleeves and what to do about the pesky little hole that appears at the underarm where you join the yarn.
Search Results UNDERARM DIVIDE: PART 1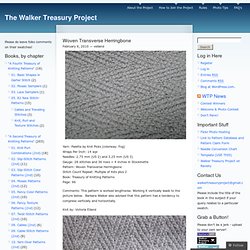 Woven Transverse Herringbone | The Walker Treasury Project
Yarn: Palette by Knit Picks (colorway: Fog) Wraps Per Inch: 14 wpi Needles: 2.75 mm (US 2) and 3.25 mm (US 3) Gauge: 28 stitches and 36 rows = 4 inches in Stockinette Pattern: Woven Transverse Herringbone Stitch Count Repeat: Multiple of 4sts plus 2 Book: Treasury of Knitting Patterns Page: 96
You can download the full-size chart, verbal instructions and notes here. Variations of the pattern can be found in many modern day texts.
1884 Knitted Lace Sample Book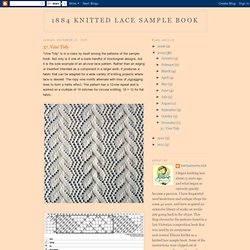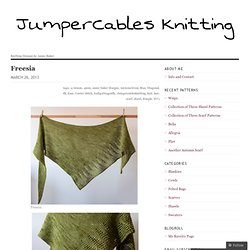 Freesia This pretty, asymmetrical shawl is knit diagonally using garter stitch, yarn overs and decreases.
Freesia | JumperCablesKnitting
Cables
The Peacock Feathers Shawl is a stylized version of a peacock's tail in full display, from the small feathers at the top of the peacock's back, down to the dramatic sweep of the tail.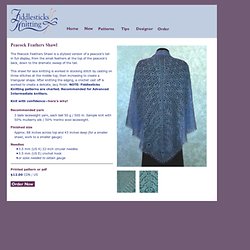 Peacock Feathers Shawl: A Lace Knitting Pattern
FitzBirch Crafts: Rose Medusa Cowl
Last week when I was in my local craft shop browsing - I was looking for grotesque Halloween items - and I had my arms full of Halloween colours and plastic tarantulas, I spied this wool. When I say 'wool', it's a combination of 70% acrylic and 30% milk protein. I was intrigued.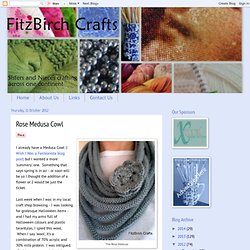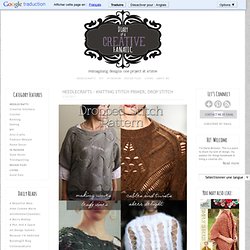 DiaryofaCreativeFanatic
It's always interesting to see how any trend evolves. Patchwork, colour blocking, combining knits with wovens and creating sheerness with different guages. Machine knitting allows the knitter to create see-through areas easily, mixing heavier yarns with very fine guages.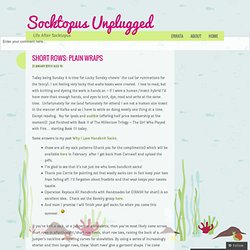 Short Rows: Plain Wraps
Today being Sunday it is time for Lucky Sunday chewin' the cud (or ruminations for the fancy).
this being my first real adventure in toe-up socks, i was a loss as to what bind off to use. sensational knitted socks didn't have a recommended bind-off (did it?)…and i've read enough blogs to know that i needed something stretchy. a quick google search didn't turn up much, although i did rediscover laurie b's toes and heels webpage (it's a fantastic collection of links for different toe and heel techniques…thanks!).
k1p1 invisible bind-off tutorial « crankygrrrrrl
Katia
Illusions
Black Dog Designs
I've never been a fan of short rows, mainly because I've never been able to make them look pretty. I've tried all the techniques--yarn overs, Japanese, wrapped, unwrapped, rewrapped, and encroachment-- and frankly, they all look hideous.
Fleegle's Blog: The Fleegle Symmetrical Short Row--No Wraps, No Holes, No Hassles
Knitting: Mosaic Garter Stitch
Picking Up Stitches Tutorial with Guest Jane Richmond
Knitting Stitch Patterns - Sweater Pattern Generators
Lãs e Linhas: Haruni Shawl
News from Schoolhouse Press
Knit Kimono: Vicki Square: 9781931499897: Amazon.com
Knitting Abbreviations Glossary
Curso de Trico e Croche Alienstore - Índice
Pick-up Lines
TECHknitting: Crossing stitches: one way to avoid a hole on a vertical opening in knitwear
Churchmouse Yarns & Teas - Barb's Koigu Ruffle
shelby knits: Violet Dress Pattern
Tradition | Tradition
Knitting Tips and Knitting Articles by Bonne Marie Burns Chicago
Felted DROPS slippers in "Nepal"
Free Patterns
Tricô e Mais Tricô: Xale de Tricô - Doce Novembro
Swing-Knitting Workshop 1 - Swingy Wristlet pattern by Heidrun Liegmann
(1) Vogue Knitting Stitchionary Volume One: Knit & Purl: The Ultimate
(1) Vogue Knitting Stitchionary Volume Five Lace Knitting
fashionable quick and easy knitting patters using luxey yarns
Kinetic - Fall 2008
Thornfield Cardigan from Tricksy Knitter
knit/lab/stranded
Tutorial: como fazer quadrados perfeitos em tricô | tricotrico.com
IZZY LANE — Cashmere Cutaway Waistcoat