DESIGN-Referencias
Foulard Assiettes Multicolore Milleneufcentquatrevingtquatre en vente chez L'Exception. Foulard en soie imprimée, 135 x 135 cm.
Ce carré est issu de la collection "Il y a des fleurs partout pour qui veut bien les voir", qui s'inspire de l'univers du célèbre peintre Henri Matisse. Milleneufcentquatrevingtquatre reprend en effet la structure de ses collages, l'abstraction de ses formes et base sa collection sur les expérimentations plastiques, le processus manuel ainsi que les procédés de collage, pliage, froissage et découpage. Chaque pièce est tissée, imprimée et façonnée en région Rhône Alpes, France. Payez ce produit en 3 fois Le paiement en 3 fois CB est une solution de notre partenaire financier LaSer : - 1er prélèvement le jour de la commande : 85,09€ - 2ème prélèvement à 30 jours : 81,67€ - 3ème prélèvement à 60 jours : 81,67€
Pampa Ondulada : Alexandra Kehayoglou. Design de Superficie. Canberra School of Art, Austrália, mostra os cursos oferecidos e páginas com imagens dos trabalhos dos artistas visitantes, professores e alunos.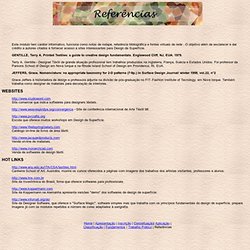 Site da Investrônica do Brasil, firma que oferece softwares para profissionais. Da Koppermann na Alemanha apresenta versões "demo" dos softwares de design de superfície. Site da Designer Software, que oferece o "Surface Magic", software simples mas que trabalha com os princípios fundamentais do design de superfície, prepara imagens já com os módulos repetidos e número de cores adaptados à serigrafia.
Chunky Knit Lighting - The Granny Pendant Lamp Adds a Touch of Maternal Instinct. If you want to add a cozy, maternal element to your home, I suggest you take a good look at the Granny pendant lamp.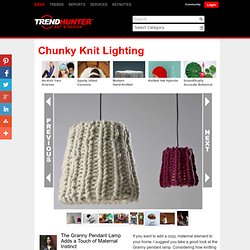 Considering how knitting has blown up in the last couple of years, there's really nothing that outdated about this lighting option -- just something very hip and comfortable. Designed by Georg Öhler, the Granny pendant lamp are actually knitted by local Netherlands ladies. According to Öhler, "The fluffiness of the material triggers images of a safe, warm place. " Tinga tinga paintings - Pesquisa Google. Manos Zapotecas — Fair Traders of beautiful Zapotec weavings.
Portfolio Images. BCD Barcelona Centro de Diseño. Caso de éxito MID 2011 2011 fue un año especial para Mireia Solsona y Nieves Torres, dos participantes del MID Mercado de Ideas Diseño 2011.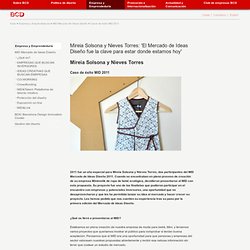 Cuando se encontraban en pleno proceso de creación de su empresa Minimetik de ropa de bebé ecológica, decidieron presentarse al MID con esta propuesta. Su proyecto fue uno de los finalistas que pudieron participar en el encuentro con empresas y potenciales inversores, una oportunidad que no desaprovecharon y que les ha permitido lanzar su idea al mercado y hacer crecer su proyecto. Digital Collage Sheet – piddix instant collage sheets. Celso Lima Estamparia - UOL Blog. Jean Seberg em listrado momento.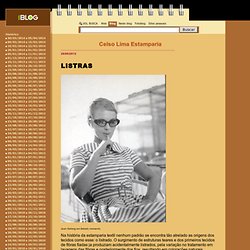 Na história da estamparia textil nenhum padrão se encontra tão atrelado as origens dos tecidos como esse: o listrado. O surgimento de estruturas teares e dos primeiros tecidos de fibras fiadas ja produziam acidentalmente listrados, pela variação no tratamento em lavagens das fibras e posteriormente dos fios, resultando em colorações naturais matizadas, que ao serem tecidos produziam uma textura listrada em tons de tan e castanho (achados arqueológicos desse tipo de textil encontrado no Oriente Médio ja comprovam o uso da lã tecida em 4.000aC, e na América do Sul, em regiões do Peru, tecidos envoltórios também de lã possuem datação semelhante). A antiguidade do textil no tear grego estampado em vaso (a esquerda)/ Tecido neolitico (a direita). Mas foram os sumérios que transformaram as listras produzidas no urdume e trama do tear em estampa tecida.
Apiece Apart notes from apart. Center For Pattern Design. Collaborations | Reclaim To Wear. Upcycling Fashion and Sustainable Living Exhibition 2013 – Hong Kong With Hong Kong landfills fast approaching their brim with no suitable short-or long-term waste solutions in sight, Hong Kongers are faced …Read more Topshop Reclaim To Wear second collection.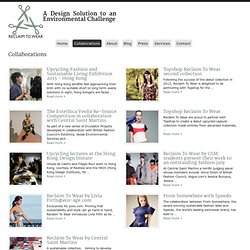 Adire African Textiles gallery. Over the following pages we will be introducing you to some of the best known types of African textiles as well as more rare and obscure styles.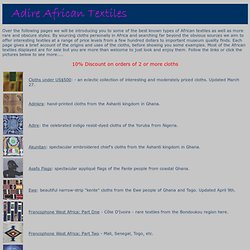 By sourcing cloths personally in Africa and searching far beyond the obvious sources we aim to offer interesting textiles at a range of price levels from a few hundred dollars to important museum quality finds. Each page gives a brief account of the origins and uses of the cloths, before showing you some examples. Most of the African textiles displayed are for sale but you are more than welcome to just look and enjoy them. Follow the links or click the pictures below to see more.... 10% Discount on orders of 2 or more cloths.
Fire Flowers - Ehrman Tapestry. Showtime. Blurring the Boundaries: Fashion Design Innovation in Contemporary Knitting - 30 May 2006. Articles - 30 May 2006 Blurring the Boundaries: Fashion Design Innovation in Contemporary Knitting Blurring the Boundaries:Fashion Design Innovation in Contemporary Knitting is a cutting edge exhibition, a showcase of work by thirty artists who explore the art of knitting and whose work blurs the boundaries between art, fashion, craft, design and technology.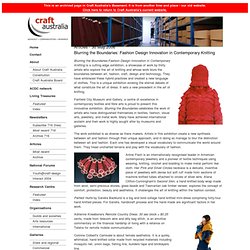 They have embraced these hybrid practices and created a new language of clothes. This is a unique exhibition evoking the eternal debate of what constitute the art of dress. It sets a new precedent in the art of knitting. The Grammar of Ornament (9781445566238): Owen Jones. PATTERN OBSERVER. Design Seeds®: For All Who Love Color. Almeda Project-Research Print.
---