EFL-ESL - ELT - Foreign LANGUAGES
50 Must-See Teacher Blogs Chosen By You. 100 Web 2.0 Tools Every Teacher Should Know About 44.08K Views 0 Likes We're always trying to figure out the best tools for teachers, trends in the education technology industry, and generally doing our darnedest to bring you new and exciting ways to enhance the classroom.
TEACHING TIPS. Global Voices · Languages and the Internet. Table of Contents The arrival of the Internet age has already radically changed the way we communicate.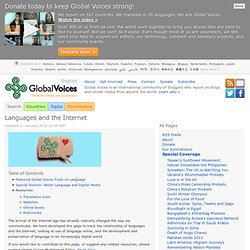 We have developed this page to track the relationship of languages and the Internet, looking at use of language online, and the development and preservation of language in an increasingly digital world. If you would like to contribute to this page, or suggest any related resources, please contact Global Voices Multilingual Editor, Paula Góes. What we do: Global Voices bloggers report on how citizens use the internet and social media to make their voices heard, often translating from different languages. For more information on indigenous cultures, please visit our Indigenous Rights page.
PHONETICS/PRONUNCIATION
WRITING. Pour des langues plus vivantes à l'école - Dossier d'actualité 58, novembre 2010. ESL blog < taste its flavour :o)
---