Software & related stuff
USB Safeguard Encrypts Portable Flash Drives, Securely Deletes Files. Interesting program.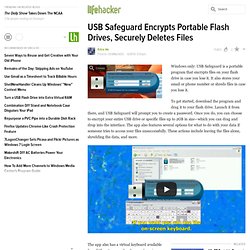 I like it for use on a few files (like a dozen or so files) but entire drive encryption with this program is not the best solution for my needs. I use a thumb drive to keep photographs on it and with me at work. I downloaded the program, dragged it to my drive, clicked enter, entered my desired password, then selected the entire contents of my drive to be encrypted. After a half-hour it encrypted all my files and securely deleted/wiped the unencrypted copies still on the drive. Welcome to Aviary. Freebyte! - Your Guide to the Web. Freeware, shareware, clipart, organizers, dictionaries, and much more! Privax - Protecting Your Online Privacy. Vuze: The most powerful bittorrent client in the world. Free Hide IP - The Best Free Privacy Protection Software. TrueCrypt - Free Open-Source On-The-Fly Disk Encryption Software.
---