MMOs played
Swow.net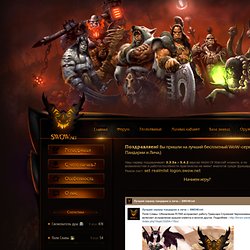 Поздравляем! Вы пришли на лучший бесплатный WoW-сервер Пандарии и Лича;) Наш сервер поддерживает 3.3.5a и 5.0.5b-5.4.2 версии World Of Warcraft клиента, и по возможностям и работоспособности практически не имеет аналогов среди фришардов :) Реалм лист: set realmlist logon.swow.net или set realmlist 195.2.240.172 Начнем игру? С Рождеством и наступающим новым годом!
Dungeons & Dragons Online®: Eberron Unlimited™
Webzen - Global Games Portal
Бесплатная онлайн игра (online игра) Granado Espada: Вызов Судьб
Heroes of Three Kingdoms - Free Fantasy MMORPG | Play Free Online Video Games
Perfect World – бесплатная онлайн игра
KAROS ONLINE
Today, the 13th of April, marks the final milestone for Karos Online as it launches off to greater heights with our players' induction to Rosh Online: The Return of Karos. With all of Karos Online's hits and misses, highs and lows, defeats and triumphs, it has been both an honor and a privilege playing and working with all the Karos Warriors of the past and the present since its Closed Beta Testing birth in August of 2009. As the new publisher for Rosh Online, Ignited Games is welcoming all players from Karos Online with great benefits and events!
9Dragons - Free Online MMORPG - Play Free Multiplayer Games Online - Nine Dragons
The 2011 PlayPhone® $10 Million Social Power-UP™ is aimed at driving successful marketing, acquisition, community building and monetization of games on the PlayPhone Social mobile gaming platform. Sign up for the PlayPhone Social developer program and start integrating your games today. All games launched on the platform will participate in the fund. Join the preeminent mobile social gaming community and tap into PlayPhone's proven acquisition, monetization, and global marketing power. Playphone Social provides multiplayer mobile gameplay, social networking features and virtual goods monetization for iPhone, iPad and Android. Click here for more details .