Parent Tech
Tech Savvy Mama. Mommy Tech Blog Online | Technology Blog for Mothers. Mom Central Technology. Mom Central received a complimentary sample of the Logitech PowerShell to facilitate this review.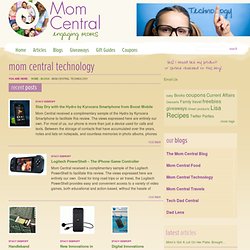 The views expressed here are entirely our own. Great for long road trips or air travel, the Logitech PowerShell provides easy and convenient access to a variety of video games, both educational and action-based, without the hassle of having to purchase and transport the latest gaming console or individual hardcopies of video games. Available for download in the App Store, games include LEGO The Lord of the Rings, Star Wars, Sonic, and more. Compatible with the iPhone 5, iPhone 5S, and iPod touch, its console-style controls — including a directional pad, shoulder bumpers, and face buttons — create an authentic gaming experience, whether it be for yourself or the kids. HiTechMommy. The Well Connected Mom.
Mom Technology — Simplifying Life. LittleTechGirl.com | A Tech Geek Mom's Nerd Paradise. Techmamas. TechLovingMom.com. MyGeekDaddy. Tech Dad Central. Vincent Nguyen: God, why does bad things h... High Tech Parent. Dad Therapy. HighTechDad Blog - A blog about gadgets, software, hardware, tec. GeekDad. The Uncommon Parent.
---