Mommyna77
Pamela Schmitt
I am fun to be with and easy to Love. (¯`v´¯) `·.¸.™
Fantasy art. Illustrations. Interesting Pearlers. Ancient..History,Magic,Spells,World.
Learning, languages, body and mind
Branch Bookshelf. Two Fat Als » Green Tea Mint Lemonade. When I asked Alex what we should say about this soothingly refreshing beverage, he responded that we should call it a "delicious summer treat."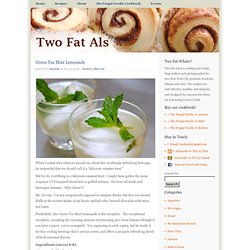 But for Al, everything is a delicious summer treat. I might have gotten the same response if I'd inquired about beer or grilled salmon. He loves all foods and beverages Summer. Play Create Explore: Homemade Puzzles. Computing. Guns N' Roses. Rednecks Blow Up House With Cannon Video. Online tv/movies. Measuring The Impact Of FaceBook. Cultiver - Grow your own ! Redneck. Guns. Museum. Genealogy Resources. Adobe Illustrator. Improve your German. Interesting Pearlers.
Facebook. Medicinal Herbs. Out of Body Experience. Magical and occult stores. The Witch's Tale. Wicca. Online Stores. Computer Hacking. Computing. Cloud Computing for dummies. Computer. P2P & Grid/Cloud computing. Cloud Computing for dummies. Wicca. Pagan-wiccan-spiritual. Vs Zerg.
The Green Witch. Gods Love is like. Nerdyneurogirl. Pagan-wiccan-spiritual. Bojanesih. Pearltrees videos. Bojanesih. Tattoos. Marihuana Tax Act of 1937. Background[edit] Regulations and restrictions on the sale of cannabis sativa as a drug began as early as 1860 (see Legal history of cannabis in the United States).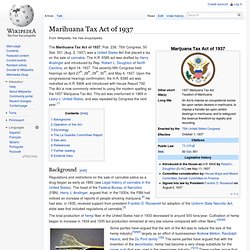 The head of the Federal Bureau of Narcotics (FBN), Harry J. Anslinger, argued that, in the 1930s, the FBN had noticed an increase of reports of people smoking marijuana.[2] He had also, in 1935, received support from president Franklin D. Roosevelt for adoption of the Uniform State Narcotic Act, state laws that included regulations of cannabis.[3] The total production of hemp fiber in the United States had in 1933 decreased to around 500 tons/year. Therapeutic Psychedelics and Drug Policy. Facebook founder donates to California marijuana vote. 9 October 2010Last updated at 03:45 Mr Parker joined Facebook in 2004 and worked as the company's first president Facebook co-founder Sean Parker has donated $100,000 (£62,000) to support the US state of California's ballot measure to legalise marijuana.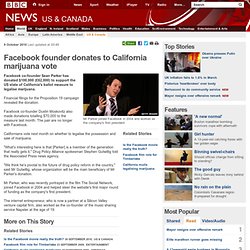 Reefer Madness. Cannabis. Marijuana. Love. Non-English Reddits. Cannabis : Histoire, Légalisations, Remises en question. Danger ! Drug Induced Out Of Body Experience. Tattoos. Pheonix_Tattoo_by_zachlost. Tattoos. Zanto. Treeoflifetattoo. Moon_tattoo_by_llamachamaboat. Tattoo. Tattoos. Wanted Tattoos. Love Family.
---
amsika Apr 4 2011

You can do that, so that you follow the activity of these pearltrees. You can also pearl your own page in your own pearltrees , to organize what you like. This video will explain you everything And of course, let me know if you have any question ;)

mommyna77 Apr 3 2011

Thank you for the welcome. I am not really sure what I am supposed to be doing really. I am just finding pearls I like and connecting them together. It seemed like the right thing to do. Any help on what the next moves should be would be helpful. Thanks again.
---