Harry Potter Fan Fiction
Home - Sycophant Hex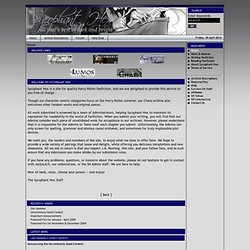 Sycophant Hex is a site for quality Harry Potter fanfiction, and we are delighted to provide this service to you free of charge. Though our character-centric categories focus on the Harry Potter universe, our Chaos archive also welcomes other fandom works and original pieces. All work submitted is screened by a team of Administrators, helping Sycophant Hex to maintain its reputation for readability in the world of fanfiction. When you submit your writing, you will find that our Admins consider each piece of unvalidated work for acceptance in our archives. However, please understand that it is impossible for the Admins to "beta read" each chapter you submit.
The Petulant Poetess :: Fiction Archive
RestrictedSection.org
Hello, and welcome to the Restricted Section. In the wake of fanfiction.net's decision to remove all NC-17 content, a group of Harry Potter fanfiction authors decided to open a new archive devoted to adult Potterfic. This means that this site is strictly for people over the age of 18. If you are underage, perhaps the The Leaky Cauldron or FictionAlley would be more to your liking.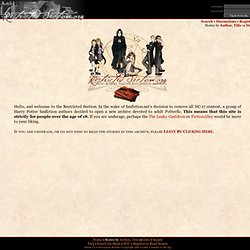 © Hawthorn & Vine 2010-2014. All rights reserved. accioDHR. Back to top. About · Help HV · Terms of Service · Privacy Policy · Help Desk · Meta · Sonorus · Sitemap · Captured Review Pyramid Table · Review Responses Table · Nominate · Invite
Hawthorn and Vine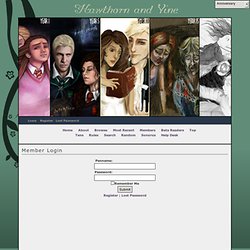 RZZMG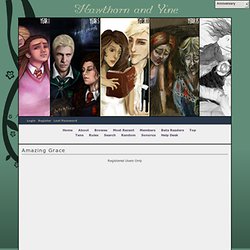 Amazing Grace
© Hawthorn & Vine 2010-2014. All rights reserved. accioDHR. Back to top. About · Help HV · Terms of Service · Privacy Policy · Help Desk · Meta · Sonorus · Sitemap · Captured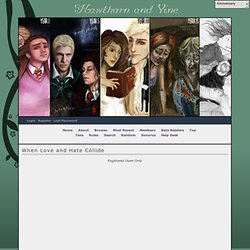 When Love and Hate Collide Registered Users Only © Hawthorn & Vine 2010-2014. All rights reserved. accioDHR. Back to top. About · Help HV · Terms of Service · Privacy Policy · Help Desk · Meta · Sonorus · Sitemap · Captured
When Love and Hate Collide
I read and write for fun, and there's been precious little drama or angst in my portfolio of creations and faves (thus far). And then came this shiny!distinction with its absolutely delicious and devastating duty of reccing four stories. Four! *sputter* To prevent further sproings and fizzes in the cranium before said cranium burst, I decided to pick from the Drama and Angst categories.
Dayang Lucilla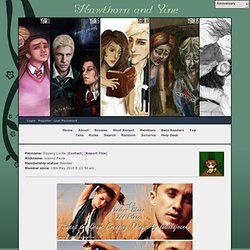 Calliope and Thalia and Their Inspiration
Nickname: Membership status: Member Member since: 25th May 2011 8:18:49 am ALL STORIES OF MINE ARE COMPLETE AND POSTED ON FANFICTION. NET I apologize that they have not been completed on this website, but I have not had them checked thoroughly enough by beta readers.
BittyBlueEyes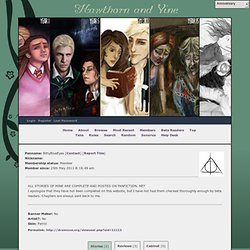 Aurelian
Break Me Down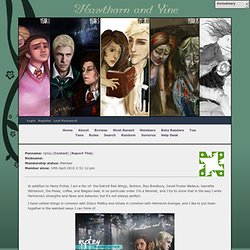 Summary: [ Sometimes you want to punch somebody. Other times, you're the one getting hit. ] After an unfortunate bar fight, Hermione Granger accidentally invites Draco Malfoy to live on her couch indefinitely, but at least she's got his wand. She's struggling to hang onto her sanity and pleasant disposition, despite those nasty thoughts that keep popping into her head, but he's already given up on his. Meanwhile, the rest of the wizarding world is investigating his mysterious disappearance, he's inventing his own whole new reality from the comfort of Hermione's bed (not that she wants him there), the gravity's broken in the kitchen, Harry and Ginny won't stop trying to get her back together with Ron, Ron's sleeping with Lavender, Hermione wants to lay him out, Astoria Greengrass is mourning her not-so-dead fiancé, and everyone's so buried in lies that they might as well just forget about the whole concept of truth.
riptey
Sucker Punch
Ashwinder :: To bewitch the mind and ensnare the senses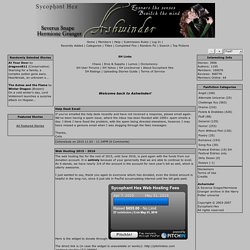 Morning Rite by Helena Rickman (Conservative) Earth, water, wind and fire combine to create a surreal moment.... The Purloined Revenge by Helena Rickman (Conservative) Hermione is in a dark place. Snape thinks he is rescuing her from it, but ... Dark Veela by kittyperry (Conservative) Severus Snape lies dying in the Shrieking Shack when he sees a vision of hi... W-Harmony by Voxangelus (Brazen) The yenta is never who you expect it to be.... Devolve by BetteNoire (Conservative)
adult-fanfiction.org is not in any way associated with or related to FanFiction.Net The views, activities, and lifestyles portrayed in these fictional not-for-profit stories in no way reflect the opinion, activities, or lifestyle of the WebMasters or the majority of the AFF Community. Each original story's copyright is held by the Author of the story and you should contact that Author with any questions or comments on their work. The WebMasters are not responsible for any of the content found in our archives. Website Domain � 2002-2012 by Apollo.