Entrepreneurship
Extension of copyright law | Insight
Government has announced that copyright in designs which qualify for copyright protection is to be enforceable beyond the current 25 years to a term of 'life of the creator plus 70 years'. Under the new measures, certain 'artistic' designs of manufactured goods (for example certain furniture, lamps and jewellery) created before 1987 may now be protected from unauthorised copying under copyright law. The changes are part of the Enterprise and Regulatory Bill, recently announced by the Government. The Bill will repeal section 52 of the Copyright, Designs and Patents Act 1988, which currently restricts copyright to 25 years (calculated from the date on which the work is first placed on the market) on artistic works which are exploited through an industrial process. In practice, this means that owners of any copyrights in classic designs will be able to use copyright law to prevent the sale of unauthorised copies of such designs.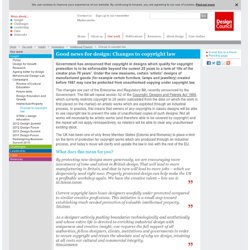 Intellectual Property | Business and public sector guides
With more than 4 million patents in force worldwide, it's not just global companies such as Sony and Nike that need to watch out for infringers and plagiarists. Legal expert Iain Stansfield explains how intellectual property law can help in the battle against the copycats. Intellectual property is all about the legal protection of 'the good idea'. It's the area of law that enables designers, innovators and other creative people to protect and exploit their work and to prevent misappropriation by others. The economic and operational fallout can be disastrous for anyone failing to properly protect their IP.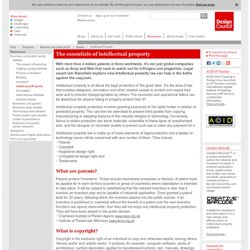 Intellectual property is something you create that's unique. It includes copyright, patents, designs and trademarks, and can be: something you invent, like a new product a product's design or appearance a brand or logo written work, like content on a website or in a brochure artistic work, like photography or illustrations film recordings or musical compositions computer software You can't protect an idea - but you can often protect what you do with it. For example, you can't protect an idea for a book.
Design right and registration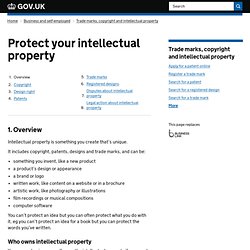 The design industry is built around the creation of intellectual property, yet IP rights and ownership are seen as an opaque and confusing area for many people. In this section we will cover: Different IP rightsDesign work and IP – FAQsContractsValuing your ideas This guide examines how IP rights and their consideration in project contracts can apply in the day to day running of a commercial design consultancy. For more information about the precise definitions of the different types of IP rights listed below, as well as the ways that businesses in general can protect their IP, see the fuller guide to Intellectual Property elsewhere on our website and the links at the end of this section. And for more ideas on how design consultancies in particular can better exploit the IP they generate, see the section on 'Royalties, equity stakes and shared risk'.
Legal issues | Guides for designers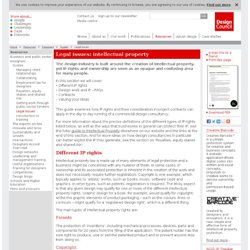 Kapor Capital
Mission: Small Business℠
Who are the TaskRabbits?
Social Media, Digital and Internet Marketing Training and Consulting : Social Media Training – Training & Marketing in social media | Boot Camp Digital
It's a great time to be an mHealth entrepreneur, experts said at Tuesday's Mobile Health Venture Fair, presented by mHIMSS, at the mHealth Summit in Washington, DC. With about 100 people in attendance, the event gave the opportunity for 20 emerging mobile health companies to present their products to potential investors. [See also: Sebelius lauds smartphones at mHealth Summit]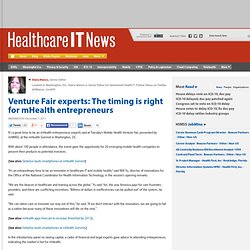 Venture Fair experts: The timing is right for mHealth entrepreneurs
Free counseling, low cost workshops and seminars for small business from SCORE of Rochester