Entrepreneurship
Intellectual property is something you create that's unique. It includes copyright, patents, designs and trade marks, and can be: something you invent, like a new product a product's design or appearance a brand or logo written work, like content on a website or in a brochure artistic work, like photography or illustrations film recordings or musical compositions computer software You can't protect an idea but you can often protect what you do with it, eg you can't protect an idea for a book but you can protect the words you've written. Who owns intellectual property
Design right and registration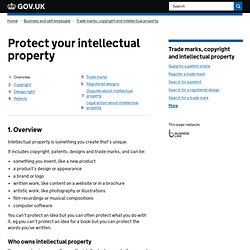 Kapor Capital is an investment fund based in Oakland, CA that invests in seed stage information technology companies which aspire to generate economic value and positive social impact. Investment sectors include but are not limited to education, health and consumer finance. We particularly look for companies that are closing gaps of access and opportunity for under-served communities or involve a disruptive democratization of a sector.
Kapor Capital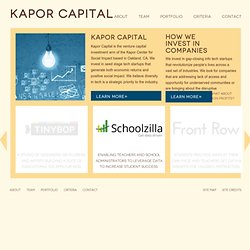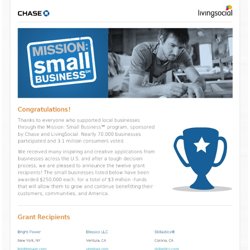 Thanks to everyone who supported local businesses through the Mission: Small Business℠ program, sponsored by Chase and LivingSocial. Nearly 70,000 businesses participated and 3.1 million consumers voted. We received many inspiring and creative applications from businesses across the U.S. and after a tough decision process, we are pleased to announce the twelve grant recipients! The small businesses listed below have been awarded $250,000 each, for a total of $3 million -funds that will allow them to grow and continue benefitting their customers, communities, and America.
Mission: Small Business℠
Who are the TaskRabbits?
Social Media, Digital and Internet Marketing Training and Consulting : Social Media Training – Training & Marketing in social media | Boot Camp Digital
It's a great time to be an mHealth entrepreneur, experts said at Tuesday's Mobile Health Venture Fair, presented by mHIMSS, at the mHealth Summit in Washington, DC. With about 100 people in attendance, the event gave the opportunity for 20 emerging mobile health companies to present their products to potential investors. [See also: Sebelius lauds smartphones at mHealth Summit]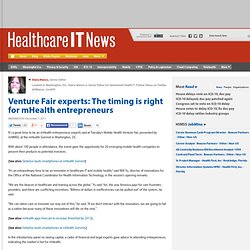 Venture Fair experts: The timing is right for mHealth entrepreneurs
Free counseling, low cost workshops and seminars for small business from SCORE of Rochester