Philosophy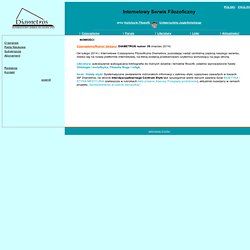 DIAMETROS
Czasopismo/Numer bieżący: DIAMETROS numer 39 (marzec 2014) Od lutego 2014 r. Internetowe Czasopismo Filozoficzne Diametros, pozostając nadal centralną częścią naszego serwisu, mieści się na nowej platformie internetowej, na którą zostaną przekierowani czytelnicy wchodzący na jego stronę. Literatura: sukcesywnie wzbogacana bibliografia do różnych działów i tematów filozofii; ostatnio wprowadzone hasła: Ontologia i metafizyka, Filozofia Boga i religii,
The Stanford Encyclopedia of Philosophy organizes scholars from around the world in philosophy and related disciplines to create and maintain an up-to-date reference work. Principal Editor: Edward N. Zalta Current Operations Are Supported By: The Offices of the Provost, the Dean of Humanities and Sciences, and the Dean of Research, Stanford University The SEP Library Fund: containing contributions from the National Endowment for the Humanities and the membership dues of academic and research libraries that have joined SEPIA. The John Perry Fund and The SEP Fund: containing contributions from individual donors.
Genes Determinism and God Dr. Denis Alexander (University of Cambridge) will present The Gifford Lecture Series at St. Andrews beginning December 3, 2012.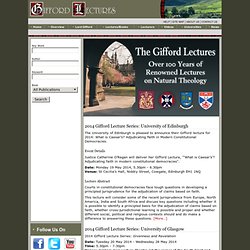 This website collects tools and information for students, researchers, and teachers interested in the philosophy of action/agency and related topics across various disciplines. Please use shortcuts on the right to navigate. News items will be posted on our Blog (please subscribe via RSS). We aim to update the site regularly so please email us with any new information or ideas. Constantine Sandis & AndreiBuckareff
Philosophy of Action