Outils de visualisation de l'information
Création de présentations interactives
Création de représentations graphiques
A little jealous or not, I want to report on reMap [bestario.org], which displays the multitude of visualization projects featured on visualcomplexity.com. The interactive navigation uses a semantic approach as it depicts meaningful relations among the individual projects by common tags.
A (re)map of visualcomplexity.com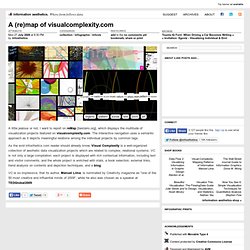 Lift10 : Visualiser la complexité pour mieux la comprendre - Fin
Par Hubert Guillaud le 16/07/10 | 4 commentaires | 5,764 lectures | Impression La complexité n'est-elle pas devenue une caractéristique de nos sociétés, plutôt qu'un bug ? Comment pourrions-nous regagner le contrôle de nos flots d'information, de notre temps ?