US economic policies
[2012] Joseph Stiglitz: "A Banking System is Supposed to Serve Society, Not the Other Way Around" | Politics. What this transition meant, however, is that jobs and livelihoods on the farm were being destroyed.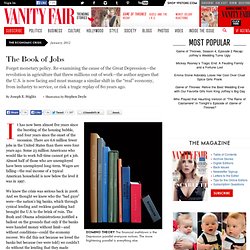 Because of accelerating productivity, output was increasing faster than demand, and prices fell sharply. It was this, more than anything else, that led to rapidly declining incomes. Farmers then (like workers now) borrowed heavily to sustain living standards and production. Because neither the farmers nor their bankers anticipated the steepness of the price declines, a credit crunch quickly ensued.
Farmers simply couldn't pay back what they owed. [2009] Do Tax Cuts Starve the Beast?The Effect of Tax Changeson Government Spending. [july 2010] The Real Unemployment Rate: Is It 9.5%, 16.5%, 22%, or Higher? Raghavan Mayur, president at TechnoMetrica Market Intelligence, follows unemployment data closely.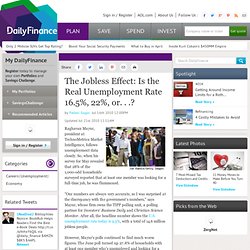 So, when his survey for May revealed that 28% of the 1,000-odd households surveyed reported that at least one member was looking for a full-time job, he was flummoxed. "Our numbers are always very accurate, so I was surprised at the discrepancy with the government's numbers," says Mayur, whose firm owns the TIPP polling unit, a polling partner for Investors' Business Daily and Christian Science Monitor. Economic Crisis Forces Local Governments to Let Asphalt Roads Return to Gravel. How to make America more innovative: give scientists more incent. Is America no longer the land of innovation?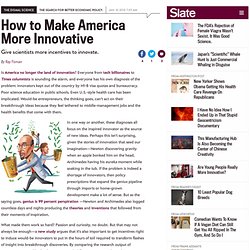 Everyone from tech billionaires to Times columnists is sounding the alarm, and everyone has his own diagnosis of the problem: innovators kept out of the country by H1-B visa quotas and bureaucracy. Poor science education in public schools. Even U.S. Afghanistan and America's troubled backyard | Analysis & Opinion | The United States is spending around $6.5 billion a month on the war in faraway Afghanistan, where a large part of its effort is meant to help the government assert its authority, fight corruption and set up functioning institutions.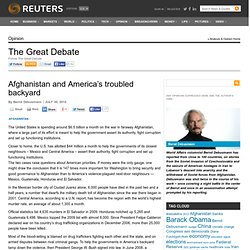 Closer to home, the U.S. has allotted $44 million a month to help the governments of its closest neighbours – Mexico and Central America – assert their authority, fight corruption and set up functioning institutions. The two cases raise questions about American priorities. If money were the only gauge, one might draw the conclusion that it is 147 times more important for Washington to bring security and good governance to Afghanistan than to America's violence-plagued next-door neighbours — Mexico, Guatemala, Honduras and El Salvador. In the Mexican border city of Ciudad Juarez alone, 6,000 people have died in the past two and a half years, a number that dwarfs the military death toll of Afghanistan since the war there began in 2001. Estimating U.S. Government Subsidies to Energy Sources (02-08) [From Environmental Law Institute] | Computational Legal Studies™
[2010] How Much Do UI Extensions Matter for Unemployment? - The Agenda. James Pethokoukis of Reuters flags a blog post at the Atlanta Fed, highlighting Fed research on how UI benefit extensions have affected the unemployment rate.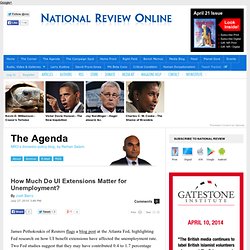 Two Fed studies suggest that they may have contributed 0.4 to 1.7 percentage points to current unemployment. But a closer look at this research makes me skeptical that the effects have been so large. The first study, from the San Francisco Fed, looks at average duration of employment for unemployed people eligible for UI benefits, compared to those who are ineligible because they left jobs willingly or are new workforce entrants. Obviously, for both groups, average unemployment duration is up sharply in the recession, but for the UI-eligible it has grown by an additional 1.6 weeks. [August 2010] Une histoire qui s'achève. Billet invité.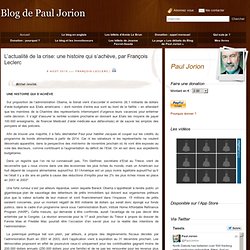 Sur proposition de l'administration Obama, le Sénat vient d'accorder in extremis 26,1 milliards de dollars d'aide budgétaire aux Etats américains – dont nombre d'entre eux sont au bord de la faillite – en attendant que les membres de la Chambre des représentants interrompent d'urgence leurs vacances pour entériner cette décision. Il s'agit d'assurer la rentrée scolaire prochaine en donnant aux Etats les moyens de payer 100.000 enseignants, de financer Medicaid (l'aide médicale aux défavorisés) et de sauver les emplois des pompiers et des policiers. [2011] Geithner, Summers, Obama, And The U.S. Economy: How The Treasury Secretary Got His Groove Back.
How Timothy Geithner survived.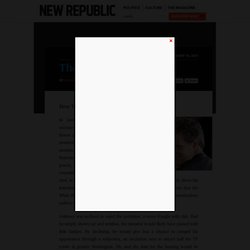 In January, Timothy Geithner, the treasury secretary, received an invitation to testify before the House government oversight committee. It was a moment the administration had been dreading for months. Now that the GOP controls the House of Representatives, it has enormous investigative power, which flows through the oversight committee and its ambitious chairman, Darrell Issa. [2011] Why Isn't Wall Street in Jail? | Rolling Stone Politics. [2011] The People vs. Goldman Sachs | Rolling Stone Politics.
[2008-2010] Meltdown & Bailout (and related affairs) [2010] Finance reform & Volcker rule. A unsustainable Defense budget level.
---
moktarama Sep 9 2010

Miniature by Tom Magliery :
---