URSS
Get flash to fully experience Pearltrees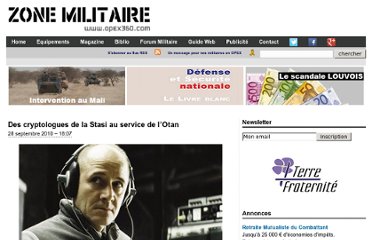 28 septembre 2010 – 18:07 Ministerium für Staatssicherheit. Ou encore la Stasi, la police secrète de l'ancienne République démocratique d'Allemagne (RDA). Avant la chute du Mur de Berlin, en novembre 1989, ce nom donnait des sueurs froides aux Allemands de l'est. Et pour cause, puisque la Stasi employait 91.000 agents et 190.000 informateurs pour surveiller les 17 millions d'habitants de la RDA. Et la somme de renseignements recueillis est phénoménale.
Cette courte conférence, prononcée (virtuellement) à une autre occasion, convient parfaitement dans le cadre de ce site afin de diversifier les sujets qui y sont abordés. C'est pourquoi je me suis permis de copier sans scrupule le texte sur mes propres données afin de le mettre à la disposition de mes nombreux lecteurs, s'ils le souhaitent. Décor : imaginer une salle de conférence rectangulaire à Irkoutsk, dans le plus pur style stalinien, pleine à craquer. Le conférencier entre; la salle pousse un "aaaaah!" d'apaisement.
Dur et rêche" , se souvient Krystyna Goldbergowa, rédactrice de la maison d'édition Iskry. "Je ne saurais dire sa couleur exacte" , avoue le professeur de littérature Michal Glowinski. "Dans la Pologne communiste, un rouleau de papier toilette était un obscur objet de désir" , explique Zofia Czerwinska, comédienne. "C'était le roi." Il était difficile de s'en procurer.
BIROBIDZHAN, Russia—Never have I heard so many snide comments about an upcoming trip. "Don't bother coming back," said a co-worker, laughing nervously. Birobidzhan has a way of making people laugh.
People waiting for the morning bus in the freezing Birobidzhad winter. Photo by Jonas Bendiksen/Magnum Photos BIROBIDZHAN, Russia—The original planners of the Jewish Autonomous Region hoped to attract hundreds of thousands of Jews to Birobidzhan; to build a modern, Bauhaus-style city (for if ever there was an idea Jews the world over agreed on, it is exposed concrete and low ceilings); and surround it with rolling fields of wheat cultivated by Yiddish-speaking collective farmers.
The Star of David is scribbled on a broken apartment block window. Photo by Jonas Bendiksen/Magnum Photos BIROBIDZHAN, Russia—The first time I logged on to the official Web site of the Jewish Autonomous Region, its home page featured an article called "Twenty Facts About the Jewish Face." I later realized that it was fed to the JAR site at random via a link from a Moscow-based Jewish-book site, but the article's appearance seemed fated, for it spoke to the basic question raised by the JAR: What is a Jew? A Jew is his face, said the article, which was lighthearted for the most part, written by a Jewish woman for a Jewish readership.
Il y a 70 ans, la Russie stalinienne envahissait la Finlande. A cette occasion nous publions un extrait du livre d'A. Rossi (pseudonyme d'Angelo Tasca): Les communistes français pendant la drôle de guerre 1939-1940 (1951) . Carte du conflit
Effondrement de 1989 à 1995