[2010] The United States of Inequality, by Slate.com
Timothy Robert Noah (born 1958) [ 1 ] is an American journalist . He was a senior editor of The New Republic , [ 2 ] [ 3 ] [ 4 ] where he wrote the TRB column. Noah is also a contributing editor to The Washington Monthly and a frequent commentator on CBS News' Sunday Morning. In 2010 Noah was a National Magazine Award finalist in the online news reporting category for his coverage of the health care reform bill, and for a decade he wrote Slate 's "Chatterbox" column. [ edit ] Early life and career
Timothy Noah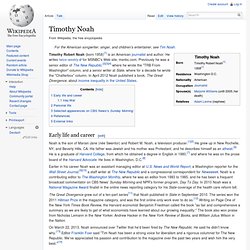 In 1915, a statistician at the University of Wisconsin named Willford I.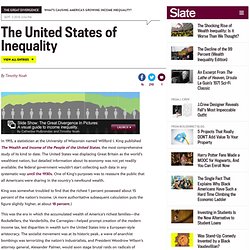 Most discussion about inequality in the United States focuses on race and gender. That makes sense, because our society has a conspicuous history of treating blacks differently from whites and women differently from men.
The usual suspects are innocent (2) - By Timothy Noah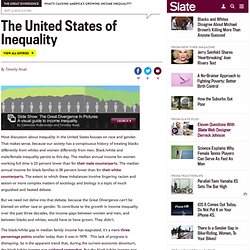 Why we can't blame income inequality on the post-1965 immigration surge. (3) - By Timothy Noah
The fence between Nogales, Mexico, and and Nogales, Ariz.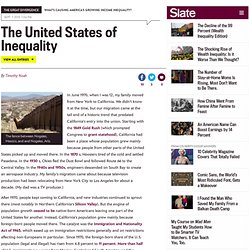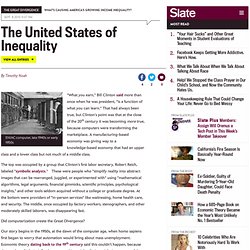 Did the tech boom create inequality? (4) - By Timothy Noah
ENIAC computer, late 1940s or early 1950s
Can We Blame Income Inequality on Republicans? (5) - By Timothy Noah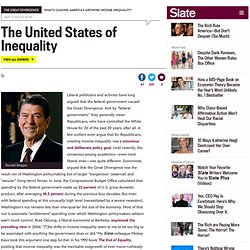 Ronald Reagan Liberal politicians and activists have long argued that the federal government caused the Great Divergence. And by "federal government," they generally mean Republicans, who have controlled the White House for 20 of the past 30 years, after all.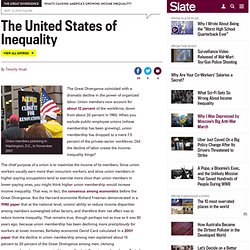 The Great Divergence and the Death of Organized Labor (6) - By Timothy Noah
Union members picketing in Washington, D.C., in November 2007 The Great Divergence coincided with a dramatic decline in the power of organized labor.
Cargo boats on the Changjiang (Yangtze River) in Wuhan I typed this article on a laptop that was made in China. Just about everything I own was made in China.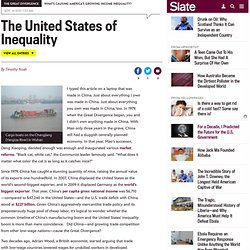 Trade Didn't Create Inequality, and Then It Did (7) - By Timothy Noah
The Stinking Rich and the Great Divergence (8) - By Timothy Noah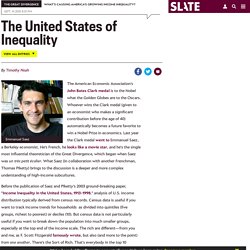 Emmanuel Saez
How the Decline in K-12 Education Enriches College Graduates (9) - By Timothy Noah