Traduction
Google Traduction. Yahoo! Babel Fish - Traduction en ligne : français, anglais, espagnol, italien, allemand, etc. Dicovia. Lexicool.com. Reverso. PROMT – le traducteur gratuit de texte et de sites Web – l'anglais, l'allemand, le français, l'espagnol, le portugais (brésilien) et le russe.
SDL Free Translation. Woxikon. Lingo24. There are a number of free online machine translation tools that will allow you to get the gist of a document, without having to have it professionally translated.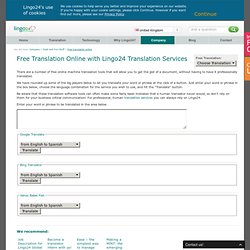 We have rounded up some of the big players below to let you translate your word or phrase at the click of a button. Just enter your word or phrase in the box below, choose the language combination for the service you wish to use, and hit the "Translate" button. Be aware that these translation software tools can often make some fairly basic mistakes that a human translator never would, so don't rely on them for your business critical communication!
iTools. Dictionnaire-français.net.
---
moktarama Jul 26 2010

N'hésitez pas à signaler en commentaires les traducteurs qui vous semblent les plus pertinents, cela servira aux autres !
---