The Streisand Effect
Get flash to fully experience Pearltrees
The image of Streisand's Malibu house that led to the naming of the effect.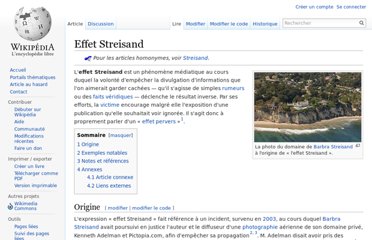 Un article de Wikipédia, l'encyclopédie libre. Comprendre l'effet Streisand en une image. L' effet Streisand est un phénomène Internet qui se manifeste par l'augmentation considérable de la diffusion d'informations ou de documents faisant l'objet d'une tentative de retrait ou de censure .
Mais quelle mouche a bien pu piquer les blogueurs ukrainiens ?
Pillsbury, pour vous situer un peu le contexte, est une marque du groupe General Mills (12 milliards de dollars de chiffre d'affaire, 30K employées à travers le monde).
Wikileaks & effet Streisand