The Koch brothers
Get flash to fully experience Pearltrees
Koch Industries, Inc. / ˈ k oʊ k / is an American multinational corporation based in Wichita , Kansas , United States, with subsidiaries involved in manufacturing, trading and investments.
Charles de Ganahl Koch ( pron.: / ˈ k oʊ k / ; born November 1, 1935) is an American businessman and philanthropist. He is co-owner, chairman of the board, and chief executive officer of Koch Industries Inc., the second-largest privately held company by revenue in the United States according to a 2010 Forbes survey. [ 5 ] As of October 2012, Charles was ranked the 6th richest person in the world with an estimated net worth of $34 billion, according to the Bloomberg Billionaires Index . [ 6 ] He was ranked 18th on Forbes World's Billionaires list of 2011 (and 4th on the Forbes 400), with an estimated net worth of $25 billion, deriving from his 42% stake in Koch Industries. [ 3 ] His brother David H. Koch , also owns 42% of Koch Industries, and serves as Executive Vice President. The brothers inherited the business from their father, Fred C. Koch , and have since expanded the business to 2,600 times its inherited size.
David Hamilton Koch ( pron.: / ˈ k oʊ k / ; born May 3, 1940) is an American businessman, philanthropist, political activist, and chemical engineer. He is a co-owner (with older brother Charles ) and an executive vice president of Koch Industries , a conglomerate that is the second-largest privately held company in the United States. [ 7 ] Koch is the fourth richest person in America as of 2012, [ 8 ] and the second-richest resident of New York City as of 2010. [ 3 ] [ 4 ] He is a major patron of the arts and had contributed to several charities, including Lincoln Center , Sloan Kettering , a fertility clinic at New York-Presbyterian Hospital and the American Museum of Natural History 's David H. Koch Dinosaur Wing. [ 9 ] The New York State Theater at Lincoln Center, home of the New York City Ballet was renamed the David H. Koch Theater in 2008 following a gift of 100 million dollars for the renovation of the theater.
B illionaire philanthropist David Koch is in his Madison Avenue office showing me one of his more unusual possessions, a mechanical-looking doodad on the coffee table next to the couch. "This is a plastic version of my artificial knees," he says. "If you spent as many years as I did begging girls for favors, you'd have bad knees, too." The 70-year-old Koch actually wore out his knees playing basketball.
A quite close (and not very critical to say the least) portrait of David Koch. by moktarama Sep 1
On May 17th, a black-tie audience at the Metropolitan Opera House applauded as a tall, jovial-looking billionaire took the stage. It was the seventieth annual spring gala of American Ballet Theatre, and David H. Koch was being celebrated for his generosity as a member of the board of trustees; he had recently donated $2.5 million toward the company's upcoming season, and had given many millions before that. Koch received an award while flanked by two of the gala's co-chairs, Blaine Trump, in a peach-colored gown, and Caroline Kennedy Schlossberg, in emerald green. Kennedy's mother, Jacqueline Kennedy Onassis, had been a patron of the ballet and, coincidentally, the previous owner of a Fifth Avenue apartment that Koch had bought, in 1995, and then sold, eleven years later, for thirty-two million dollars, having found it too small.
A deep analysis of the Koch political strategy, from the 70's to now. Those guys are awfully smart, and their actual strategy seems to begin paying back. by moktarama Sep 1
Koch Industries has posted a response to Jane Mayer's New Yorker piece alleging that billionaires Charles and David Koch are waging a clandestine "war against Obama" based on fake science, bullshit public policy work, and other "covert operations" (the actual title of The New Yorker piece). As others have noted , the story is a masterpiece not of the tightly researched and argued journalism for which The New Yorker is revered, but of sly innuendo and revelations as lame as they are breathless. To give a taste of the piece, check this out: [A] Republican campaign consultant said of the family's political activities, "To call them under the radar is an understatement. They are underground!"
Wisconsin Governor Scott Walker answers his master's call
Scott Walker is currently embroiled in a dispute over public sector pay Photograph: Pool/REUTERS The Republican governor at the centre of the union-busting protests in the US has been embarrassed by a prank call that he believed was from one of his billionaire backers. On the recording of the call, which has been released online, the Republican governor of Wisconsin Scott Walker tells a caller impersonating one of the rightwing Koch brothers that he is looking forward to flying to California to celebrate with them once the battle with the unions was won, and jokes about taking a baseball bat to slug Democratic leaders.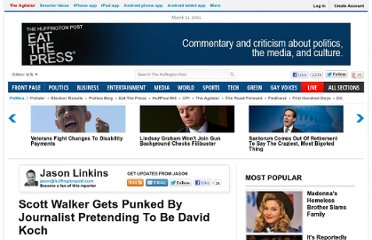 Here's something for your "can this possibly be for real" file this morning. Over at the Buffalo Beast -- the former print alt-weekly turned online newspaper founded by onetime editor Matt Taibbi, typically best known for its annual list of "The 50 Most Loathsome Americans" -- there appear to be recordings of a phone call between Wisconsin Gov. Scott Walker and current editor Ian Murphy.