The Anonymous Power
Anonymous (used as a mass noun) is a loosely associated international network of activist and hacktivist entities. A website nominally associated with the group describes it as "an internet gathering" with "a very loose and decentralized command structure that operates on ideas rather than directives". The group became known for a series of well-publicized publicity stunts and distributed denial-of-service (DDoS) attacks on government, religious, and corporate websites.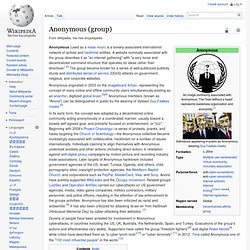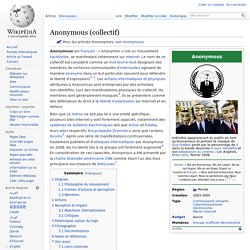 Un article de Wikipédia, l'encyclopédie libre. Origines Avec la popularité grandissante des imageboards, l'idée qu'Anonymous soit un collectif d'individus non nommés est devenue un mème internet[8],[9].
4Chan & the infamous /b/ board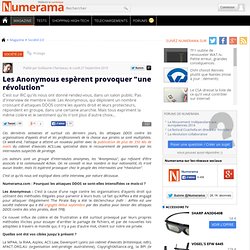 Ces dernières semaines et surtout ces derniers jours, les attaques DDOS contre les organisations d'ayants droit et les professionnels de la chasse aux pirates se sont multipliées. Ce week-end, l'attaque a atteint un nouveau pallier avec la publication de plus de 350 Mo de mails du cabinet d'avocats ACS:Law, spécialisé dans le recouvrement de paiements par les internautes suspectés de piratage. Les auteurs sont un groupe d'internautes anonymes, les "Anonymous", qui refusent d'être associés à la communauté 4chan. On ne connaît ni leur nombre ni leur nationalité, ils n'ont aucun leader, mais ils espèrent provoquer chez le peuple des internautes une "révolution".
[2010] Les Anonymous espèrent provoquer "une révolution"
DDOS : les Anonymous auraient causé 537 heures d'interruption
In the summer of 2007, Apple released the iPhone, in an exclusive partnership with A.T. & T. George Hotz, a seventeen-year-old from Glen Rock, New Jersey, was a T-Mobile subscriber. He wanted an iPhone, but he also wanted to make calls using his existing network, so he decided to hack the phone. Every hack poses the same basic challenge: how to make something function in a way for which it wasn't designed.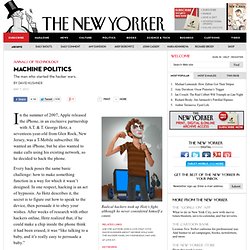 [2012] George Hotz, Sony, and the Anonymous Hacker Wars
Image Design: Giles Revell No one but Hector Xavier Monsegur can know why or when he became Sabu, joining the strange and chaotic Internet collective known as Anonymous. But we know the moment he gave Sabu up.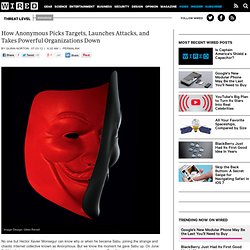 [2012] How Anonymous Picks Targets, Launches Attacks, and Takes Powerful Organizations Down | Threat Level