Stratégie économique
On a rainy night in late November, Robert Kyncl was in Google's New York City offices, on Ninth Avenue, whiteboarding the future of TV. Kyncl holds a senior position at YouTube, which Google owns. He is the architect of the single largest cultural transformation in YouTube's seven-year history.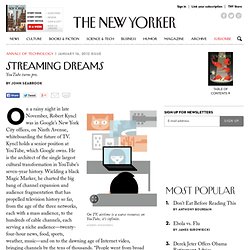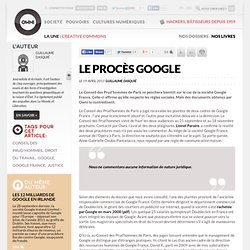 [2011] Google se fait indexer aux Prud'hommes
Le Conseil des Prud'hommes de Paris se penchera bientôt sur le cas de la société Google France. Celle-ci affirme qu'elle respecte les règles sociales. Mais des documents obtenus par Owni la contredisent.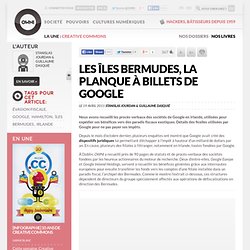 Nous avons recueilli les procès-verbaux des sociétés de Google en Irlande, utilisées pour expédier ses bénéfices vers des paradis fiscaux exotiques. Détails des ficelles utilisées par Google pour ne pas payer ses impôts. Depuis le mois d'octobre dernier, plusieurs enquêtes ont montré que Google avait créé des dispositifs juridiques lui permettant d'échapper à l'impôt à hauteur d'un milliard de dollars par an.
[2011] Why is Chrome so important to Google? It's a 'locked-in user'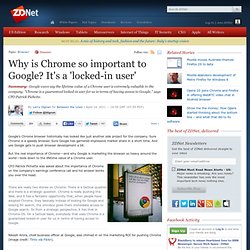 Google's Chrome browser historically has looked like just another side project for the company. Sure Chrome is a speedy browser. Sure Google has garnered impressive market share in a short time. And yes Google gets to push browser development a bit. But the real importance of Chrome---and why Google is marketing the browser so heavy around the world---boils down to the lifetime value of a Chrome user. CFO Patrick Pichette was asked about the importance of Chrome on the company's earnings conference call and his answer bonks you over the head.
Google Holds Out Against 'Do Not Track' Flag | Epicenter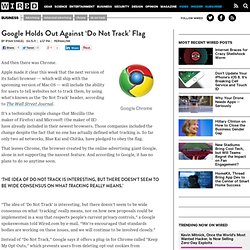 And then there was Chrome. Apple made it clear this week that the next version of its Safari browser — which will ship with the upcoming version of Mac OS — will include the ability for users to tell websites not to track them, by using what's known as the 'Do Not Track' header, according to . It's a technically simple change that Mozilla (the maker of Firefox) and Microsoft (the maker of IE) have already included in their newest browsers. Those companies included the change despite the fact that no one has actually defined what tracking is. So far only two ad networks, Blue Kai and Chitika, have pledged to obey the flag. That leaves Chrome, the browser created by the online-advertising giant Google, alone in not supporting the nascent feature.
Google : numéro 1 mondial de l'open source ?
Ah qu'il était doux et rassurant le temps de l'informatique à grand-papa où nous avions nos ordinateurs fixes qui se connectaient de temps en temps et où nous luttions avec confiance et enthousiasme contre le grand-méchant Microsoft ! Ce temps-là est révolu.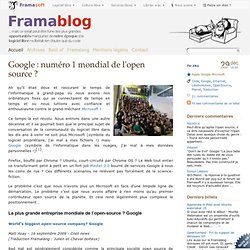 [2010] Google Editions: Divide And Conquer
The e-reading battle is raging hot, and while statistics ostensibly showing an insurgent iPad should be taken with a grain of salt, the volatility of the market is plain to see. The Kindle has made the most of an early lead, and promises to be a highly popular gift item. The Nook Color is receiving encouraging reviews and has just been rooted, rendering it a thrifty choice for tablet shoppers.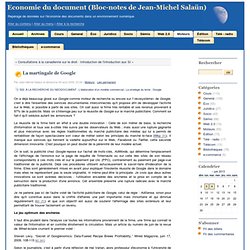 On a déjà beaucoup glosé sur Google comme moteur de recherche ou encore sur l'«écosystème» de Google, c'est à dire l'ensemble des services documentaires interconnectés qu'il propose afin de développer l'activité sur le Web, si possible à partir de ses sites. On sait aussi la firme très rentable et ses revenus provenant à 97% de la publicité.
La martingale de Google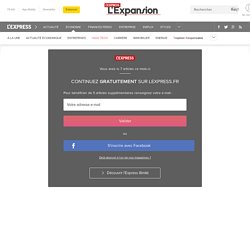 Vous travaillez chez Google depuis deux ans, votre programme de stock-options ne vous donne pas satisfaction, votre horizon est bouché et vous envisagez de partir ? Votre hiérarchie ne risque plus d'en être étonnée. Grâce à un nouvel algorithme, Google est désormais capable de prévoir qui, parmi ses 20.000 employés, est tenté de quitter l'entreprise. La formule mathématique n'a pas été dévoilée en détail, mais elle prend en compte des éléments tels que la rémunération, l'ancienneté et les divers entretiens d'évaluation. D'après le Wall Street Journal, elle aurait déjà permis de détecter les employés qui s'estiment sous-utilisés, un reproche fondamental chez les candidats au départ. Pour Google, qui a mis en place dernièrement des outils permettant tout à la fois de suivre l'avancée de la grippe A ou de prédire le vainqueur de l'Eurovision, il ne s'agit pas seulement d'une nouvelle démonstration technique de sa puissance de calcul et de son inventivité.
Chez Google, un algorithme prédit le ras-le-bol des salariés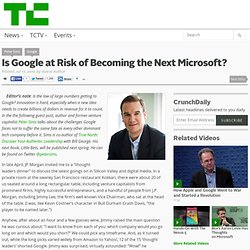 Editor's note: Is the law of large numbers getting to Google?
Is Google at Risk of Becoming the Next Microsoft?
Carte des acquisitions et investissements de Googl
Open Source Intelligence (OSINT) Analysis Defined | Analysis Intelligence
With an estimated 90% of required intelligence available in open source, it is imperative that intelligence analysts become adept at mining open sources. Recorded Future can help reduce research time, identify new sources, build timelines, chart networks, perform link analysis and more. You can learn more about our open source intelligence analysis tools on our web site, or if you're a developer check out our programmatic API. What is Open Source Intelligence (OSINT)?
Google, Twitter and Facebook build the semantic web - tech - 02 August 2010