StatSheet
StatSheet to Create Its Own Artificial Sports Journalists. Sports numbers site Statsheet plans on unveiling an automated college basketball journalist this summer.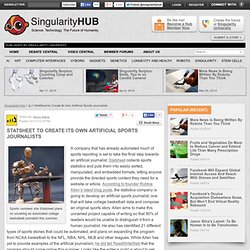 A company that has already automated much of sports reporting is set to take the final step towards an artificial journalist. Statsheet collects sports statistics and puts them into easily sorted, manipulated, and embedded formats, letting anyone provide the directed sports content they need for a website or article. According to founder Robbie Allen's latest blog posts, the statistics company is going to develop an artificial sports journalist, one that will take college basketball data and compose an original sports story. [2010] L'ère des robots-journalistes. LE MONDE | • Mis à jour le | Par Yves Eudes - Evanston (Illinois) Envoyé spécial A première vue, rien de surprenant.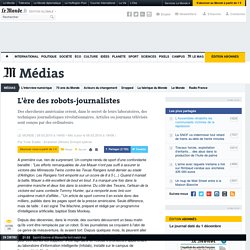 Un compte rendu de sport d'une confondante banalité : "Les efforts remarquables de Joe Mauer n'ont pas suffi à assurer la victoire des Minnesota Twins contre les Texas Rangers lundi dernier au stade d'Arlington. Les Rangers l'ont emporté sur un score de 8 à 5 (...) Quand il maniait la batte, Mauer a été excellent de bout en bout. Il a marqué une fois dans la première manche et deux fois dans la sixième. [2010] Le « journalisme artificiel » est en ligne. C'était annoncé, c'est désormais chose faite.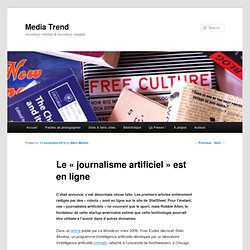 Les premiers articles entièrement rédigés par des « robots » sont en ligne sur le site de StatSheet. Pour l'instant, ces « journalistes artificiels » ne couvrent que le sport, mais Robbie Allen, le fondateur de cette startup américaine estime que cette technologie pourrait être utilisée à l'avenir dans d'autres domaines. Dans un article publié par Le Monde en mars 2009, Yves Eudes décrivait Stats Monkey, un programme d'intelligence artificielle développé par un laboratoire d'intelligence artificielle (infolab), rattaché à l'université de Northwestern, à Chicago: Il [Stats Monkey] travaille automatiquement de A à Z. [2010] College Basketball, NBA, NASCAR, College Football, and NFL Stats, Scores, and Analysis - StatSheet.com.
---