Sites web par école/université/institution
Japon : Members of JOCW | OCW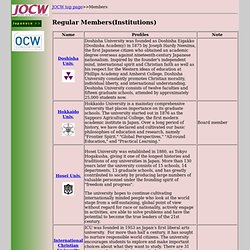 The history of Ritsumeikan dates back to 1869 when Prince Kinmochi Saionji, an eminent international statesman of modern Japan, founded "Ritsumeikan" as a private academy on the site of the Kyoto Imperial Palace. The current Ritsumeikan Academy has campuses in Hokkaido, Shiga, Kyoto, and Oita and encompasses two universities, four high schools, three junior high schools, and one primary school. Since Ritsumeikan's establishment, approximately 290,000 people have graduated from Ritsumeikan University, 2,000 from Ritsumeikan Asia Pacific University (APU), and 83, 000 from the affiliate schools. Ritsumeikan continues in its endeavor to cultivate strong leaders, abundant in creativity who are able to tackle the issues facing humanity in the 21st century.
Recension des universités japonaises proposant des programmes de cours en accès libre. by moktarama Jan 11
Japan Opencourseware Consortium top page | OCW
Johns Hopkins University
The Johns Hopkins University [ 4 ] (informally Johns Hopkins , JHU , or just Hopkins ) is a not-for-profit [ 5 ] private research university based in Baltimore , Maryland , United States . The university was founded on January 22, 1876 and named for its benefactor, the philanthropist Johns Hopkins . [ 6 ] Daniel Coit Gilman was inaugurated as the first president on February 22, 1876. [ 7 ] Johns Hopkins maintains campuses in Maryland; Washington, D.C. ; Italy; China and Singapore . The university is organized into two undergraduate divisions and five graduate divisions on two main campuses—the Homewood campus and the Medical Institutions campus—both located in Baltimore.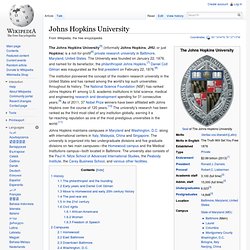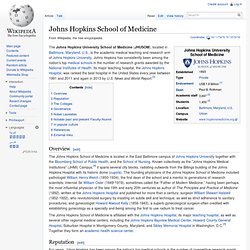 Johns Hopkins School of Medicine - Wikipedia, the free encyclope
The Johns Hopkins University School of Medicine ( JHUSOM ), located in Baltimore, Maryland , U.S. , is the academic medical teaching and research arm of Johns Hopkins University . Johns Hopkins has consistently been the nation's top medical school in the number of competitive research grants awarded by the National Institutes of Health . Its major teaching hospital, the Johns Hopkins Hospital , was ranked the best hospital in the United States every year between 1991 and 2011 by U.S. News and World Report . [ 3 ] [ edit ] Overview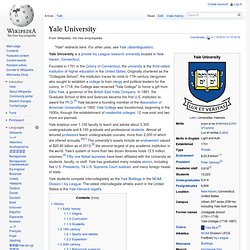 Yale University is a private Ivy League research university located in New Haven , Connecticut . Founded in 1701 in the Colony of Connecticut , the university is the third-oldest institution of higher education in the United States . Originally chartered as the "Collegiate School", the institution traces its roots to 17th-century clergymen who sought to establish a college to train clergy and political leaders for the colony. In 1718, the College was renamed "Yale College" to honor a gift from Elihu Yale , a governor of the British East India Company . In 1861, the Graduate School of Arts and Sciences became the first U.S. institution to award the PhD. [ 7 ] Yale became a founding member of the Association of American Universities in 1900. Yale College was transformed, beginning in the 1930s, through the establishment of residential colleges : 12 now exist and two more are planned.
Yale University
Princeton University is a private research university located in Princeton , New Jersey, United States. It is one of the eight universities of the Ivy League , and one of the nine Colonial Colleges founded before the American Revolution . Princeton provides undergraduate and graduate instruction in the humanities , social sciences , natural sciences and engineering. [ 5 ] Princeton does not have schools of medicine, law, divinity , or business, but it does offer professional degrees through the Woodrow Wilson School of Public and International Affairs , the Princeton University School of Engineering and Applied Science and the School of Architecture.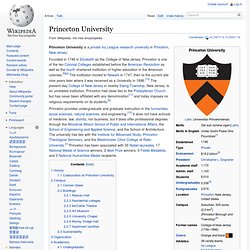 Princeton University
Coordinates : 40°26′36″N 79°56′37″W  /  40.443322°N 79.943583°W  / 40.443322; -79.943583 Carnegie Mellon University ( Carnegie Mellon or CMU ) is a private , highly selective research university in Pittsburgh, Pennsylvania , United States. The university began as the Carnegie Technical Schools, founded by Andrew Carnegie in 1900. In 1912, the school became Carnegie Institute of Technology and began granting four-year degrees.
Carnegie Mellon University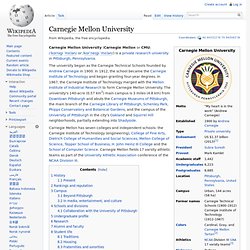 Cornell's eClips on applied economics & management
Cornell University ( pron.: / k ɔr ˈ n ɛ l / kor- NEL ) is an American private Ivy League research university located in Ithaca , New York, United States. Founded in 1865 by Ezra Cornell and Andrew Dickson White , the university was intended to teach and make contributions in all fields of knowledge — from the classics to the sciences , and from the theoretical to the applied. These ideals, unconventional for the time, are captured in Cornell's motto, a popular 1865 Ezra Cornell quotation: "I would found an institution where any person can find instruction in any study." [ 1 ] The university is broadly organized into seven undergraduate colleges and seven graduate divisions at its main Ithaca campus, with each college and division defining its own admission standards and academic programs in near autonomy.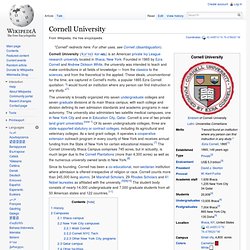 Cornell University
The University of California, Berkeley is the preeminent public research and teaching institution in the nation. From classic literature to emerging technologies, the curricula of our 130 academic departments span the wide world of thought and knowledge. Supported by the people of California, the university has embraced public service as an essential part of its mission since 1868.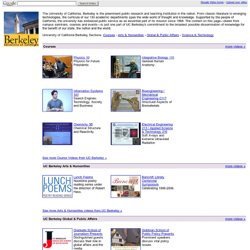 UC Berkeley on Google Video
The University of California, Berkeley (also referred to as UC Berkeley , Berkeley , California , or simply Cal ) is a public research university located in Berkeley , California , United States. Berkeley is considered one of the most prestigious universities in the world. [ 5 ] [ 6 ] The university occupies 1,232 acres (499 ha) on the eastern side of the San Francisco Bay with the central campus resting on 178 acres (72 ha). [ 7 ] Berkeley is among the most selective public universities in the United States. [ 8 ] It offers approximately 350 undergraduate and graduate degree programs in a wide range of disciplines. [ 9 ] Established in 1868 as the result of merger of the private College of California and the public Agricultural, Mining, and Mechanical Arts College in Oakland , Berkeley is the oldest of the ten major campuses affiliated with the University of California (UC).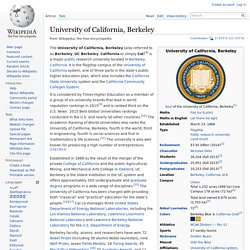 University of California, Berkeley - Wikipedia, the free encyclo
Utah State University ( USU ) is a public research university located in Logan, Utah . It is a land-grant and space-grant institution and is accredited by the Northwest Commission on Colleges and Universities . Founded in 1888 as Utah's agricultural college, USU focused on agriculture, domestic arts, and mechanic arts.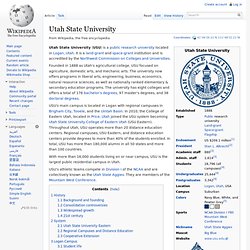 Utah State University
The University of Notre Dame du Lac (or simply Notre Dame / ˌ n oʊ t ər ˈ d eɪ m / NOH -tər- DAYM ) is a Catholic research university located in Notre Dame , an unincorporated community north of the city of South Bend , in St. Joseph County, Indiana , United States. The name of the university, "Notre Dame," is French for "Our Lady," a Catholic honorific salutation in reference to the Virgin Mary , the patron saint of the university.
University of Notre Dame
Tufts University
Tufts University is a private research university located in Medford / Somerville , near Boston , in the U.S. state of Massachusetts . The university is organized into ten schools, [ 3 ] including two undergraduate programs and eight graduate divisions, on four campuses in Massachusetts and the French Alps . The university emphasizes active citizenship and public service in all of its disciplines [ 4 ] and is known for its internationalism and study abroad programs. [ 5 ] Among its schools is the United States ' oldest graduate school of international relations, The Fletcher School of Law and Diplomacy .
Institut des sciences et technologies de Paris
Un article de Wikipédia, l'encyclopédie libre. ParisTech , ou Institut des sciences et technologies de Paris , est un Pôle de Recherche et d'Enseignement Supérieur (PRES) qui regroupe douze grandes écoles d'ingénieurs et de commerce parisiennes. Initié en 1991 , son but était de créer un établissement de « stature comparable à celle des grandes universités scientifiques et techniques au niveau mondial » [ 2 ] , à la fois pôle de recherche et d'enseignement supérieur et établissement public de coopération scientifique . Ce regroupement, visait à développer une offre de formation de qualité couvrant l'ensemble des sciences et technologies afin de jouir d'une plus grande visibilité internationale.
École normale supérieure (rue d'Ulm — Paris)
Un article de Wikipédia, l'encyclopédie libre. L' École normale supérieure [ 7 ] , parfois dite de la rue d'Ulm (ou ENS Paris , ENS Ulm , familièrement Ulm , Normale sup' , Normale [ 8 ] ), est un établissement français d' enseignement supérieur public et l'une des plus prestigieuses grandes écoles de France . Il « prépare, par une formation culturelle et scientifique de haut niveau, des élèves se destinant à la recherche scientifique fondamentale ou appliquée, à l'enseignement universitaire et dans les classes préparatoires aux grandes écoles ainsi qu'à l'enseignement secondaire et, plus généralement, au service des administrations de l'État et des collectivités territoriales, de leurs établissements publics ou des entreprises », selon les termes de l'article 2 du décret du 26 août 1987 . Ses élèves et anciens élèves, surnommés normaliens et normaliennes, acquièrent le statut de fonctionnaire stagiaire pendant leur scolarité [ 9 ] .
Institutions internationales
iTunesU-only schools & courses