Scientologie
[1991] Scientology: 'Religion' a Thriving Cult of Greed, Power. By all appearances, Noah Lottick of Kingston, Pa., had been a normal, happy 24-year-old who was looking for his place in the world.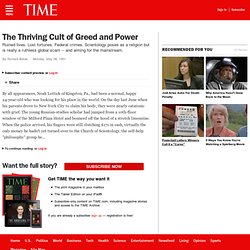 On the day last June when his parents drove to New York City to claim his body, they were nearly catatonic with grief. The young Russian-studies scholar had jumped from a 10th-floor window of the Milford Plaza Hotel and bounced off the hood of a stretch limousine. When the police arrived, his fingers were still clutching $171 in cash, virtually the only money he hadn't yet turned over to the Church of Scientology, the self-help "philosophy" group he... Subscribe Now. [2005The founder of Scientology's fascinating life story. - By Michael Crowley. Our summer of Tom Cruise's madness and Katie Holmes' creepy path toward zombie bridedom has been a useful reminder of how truly strange Scientology is.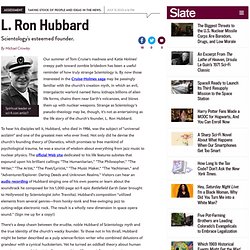 By now those interested in the Cruise-Holmes saga may be passingly familiar with the church's creation myth, in which an evil, intergalactic warlord named Xenu kidnaps billions of alien life forms, chains them near Earth's volcanoes, and blows them up with nuclear weapons. Strange as Scientology's pseudo-theology may be, though, it's not as entertaining as the life story of the church's founder, L. [2007] Scientology may be a bizarre faith invented by a sci-fi hack. But it's not a cult. - By Mark Oppenheimer. Scientology, the controversial religion whose adherents include John Travolta, Tom Cruise, and Jenna Elfman, can't seem to stay out of the news.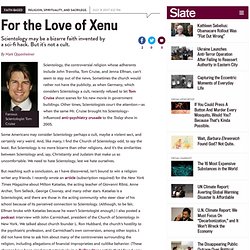 Sometimes the church would rather not have the publicity, as when Germany, which considers Scientology a cult, recently refused to let Tom Cruise shoot scenes for his new movie in government buildings. Other times, Scientologists court the attention—as when the same Mr. [2009] Are the new Scientology ads persuasive? - By Seth Stevenson. The Spot:"You are not your name," says a voice-over announcer, as we see a series of different nametags.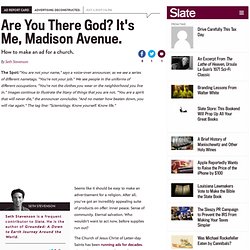 "You're not your job. " We see people in the uniforms of different occupations. "You're not the clothes you wear or the neighborhood you live in. " Images continue to illustrate the litany of things that you are not. [2011] Paul Haggis vs. the Church of Scientology. On August 19, 2009, Tommy Davis, the chief spokesperson for the Church of Scientology International, received a letter from the film director and screenwriter Paul Haggis.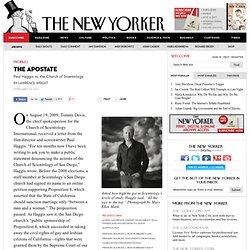 "For ten months now I have been writing to ask you to make a public statement denouncing the actions of the Church of Scientology of San Diego," Haggis wrote. Before the 2008 elections, a staff member at Scientology's San Diego church had signed its name to an online petition supporting Proposition 8, which asserted that the State of California should sanction marriage only "between a man and a woman." [2011] J'ai testé la scientologie et c'était pas bien: le test. Pour mieux comprendre où je suis allée foutre les pieds, rappelons que la scientologie est une philosophie spirituelle qui prétend aider à mieux vivre au quotidien –c'est la partie qu'on appelle la dianétique– et qui a été inventée par un auteur de romans de science-fiction nommé Lafayette Ron Hubbard.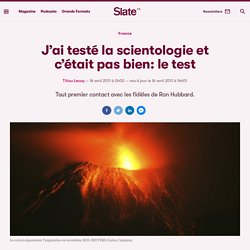 D'un point de vue spirituel, la théorie de la scientologie se résume à peu près à: Il y a 75 millions d'années, Xenu, un extraterrestre qui dirigeait une confédération galactique, s'est trouvé face à un problème de sur-population. Il décida alors de se débarrasser des habitants en trop en les envoyant sur terre où il les extermina à coup de bombes H. Une solution simple et efficace mais qui a engendré un léger problème pour nous autres, humains: les âmes de ces extraterrestres, appelées des thétans, vivent maintenant à l'intérieur de nous et nous parasitent à travers des images mentales négatives nommées engrammes. Rapport sur l'église de scientologie.
---