Sauvegarder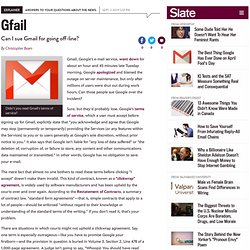 Can Gmail users sue Google for bad service? - By Christopher Bea
Didn't you read Gmail's terms of service? Gmail, Google's e-mail service, went down for about an hour and 45 minutes late Tuesday morning. Google apologized and blamed the outage on server maintenance, but only after millions of users were shut out during work hours. Can those people sue Google over the incident? Sure, but they'd probably lose. Google's terms of service , which a user must accept before signing up for Gmail, explicitly state that "you acknowledge and agree that Google may stop (permanently or temporarily) providing the Services (or any features within the Services) to you or to users generally at Google's sole discretion, without prior notice to you."
Gmail Backup Archives Your Email Account - Beta Beat - Lifehacke
Click to view Face it: If you use Google services like Gmail, Calendar, Docs and Spreadsheets, Reader, or Blogger, you've got a life's worth of data on Google's servers. Unless you back up your stuff locally, Google holds the keys to your digital life and you're out of luck if and when Google loses or denies you access to that data . Rather than run screaming for the hills, a few steps to back up your Google-hosted data can ensure that you're in control of your stuff and not the big G.
Back up your Google Apps data - Backup utilities - Lifehacker