Rumeurs & erreurs
Top 10 sites to debunk Internet hoaxes | 10 Things | TechRepublic.com. U-M Virus Busters: Hoaxes, Hooey, and Hogwash. Let the U-M Virus Busters put you in the know!
Share the facts and help us stop the spread of false information. This list (alphabetically arranged) does not include all hoaxes and scams. It includes only hoaxes, scams, and chain mail that we've seen circulating at U-M. |------Hoax Busters| Threat Explorer - Spyware and Adware, Dialers, Hack tools, Hoaxes and other risks. Symantec Security Response uncovers hoaxes on a regular basis.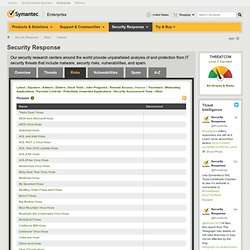 These hoaxes usually arrive in the form of an email. Please disregard the hoax emails - they contain bogus warnings usually intent only on frightening or misleading users. The best course of action is to merely delete these hoax emails. Please refer to this page whenever you receive what appears to be a bogus message regarding a new virus, or promotion that sounds too good to be true. Vmyths. Latest Email Hoaxes - Current Internet Scams - Hoax-Slayer. TruthOrFiction.com-Is that forwarded email Truth or Fiction? Research into stories, scams, hoaxes, myths, and urban legends on the Internet. Hoaxes - Email and virus hoax information. Virus hoaxes are false reports about non-existent viruses, often claiming to do impossible things.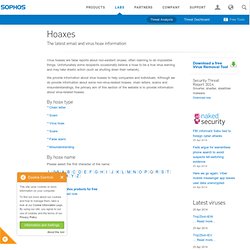 Unfortunately some recipients occasionally believe a hoax to be a true virus warning and may take drastic action (such as shutting down their network). We provide information about virus hoaxes to help companies and individuals. Although we do provide information about some non-virus-related hoaxes, chain letters, scams and misunderstandings, the primary aim of this section of the website is to provide information about virus-related hoaxes.
By hoax name Please select the first character of the name: BreakTheChain.org - Stop Junk E-mail and Misinformation. Urban Legends. Snopes : légendes urbaines et rumeurs diverses. HoaxBuster - Premiere ressource francophone sur les hoax. FactCheck.org.
---