Rumeurs & erreurs
Top 10 sites to debunk Internet hoaxes | 10 Things | TechRepublic.com
U-M Virus Busters: Hoaxes, Hooey, and Hogwash
Let the U-M Virus Busters put you in the know! Share the facts and help us stop the spread of false information. This list (alphabetically arranged) does not include all hoaxes and scams. It includes only hoaxes, scams, and chain mail that we've seen circulating at U-M.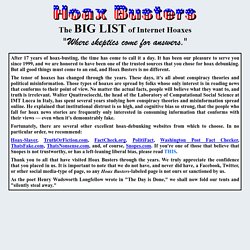 |------Hoax Busters|
9/11 Twin Towers design These cans were produced in Dubai, United Arab Emirates (UAE), by the Dubai Refreshments Company to commemorate the 40th anniversary of the UAE. The company came out with four million special edition Pepsi cans with seven different designs depicting various landmarks around the country symbolizing each of the seven Emirates. Among the seven designs included is Abu Dhabi's famous seafront. As one can plainly see, the design on the can in question is actually the skyline of Abu Dhabi as seen along the shoreline (corniche). The design looks nothing like the New York City skyline and most certainly does not contain an image of the Twin Towers.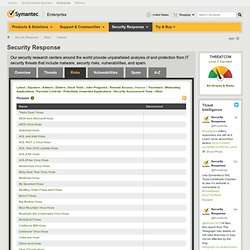 Symantec Security Response uncovers hoaxes on a regular basis. These hoaxes usually arrive in the form of an email. Please disregard the hoax emails - they contain bogus warnings usually intent only on frightening or misleading users. The best course of action is to merely delete these hoax emails. Please refer to this page whenever you receive what appears to be a bogus message regarding a new virus, or promotion that sounds too good to be true.
Threat Explorer - Spyware and Adware, Dialers, Hack tools, Hoaxes and other risks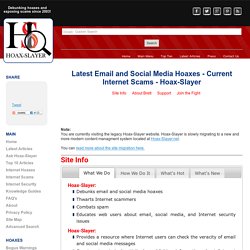 Hoax-Slayer is dedicated to debunking email hoaxes, thwarting Internet scammers, combating spam, and educating web users about email and Internet security issues. Hoax-Slayer allows Internet users to check the veracity of common email hoaxes and aims to counteract criminal activity by publishing information about common types of Internet scams. Hoax-Slayer also includes anti-spam tips, computer and email security information, articles about true email forwards, and much more. New articles are added to the Hoax-Slayer website every week. New: Scam Victim Stories Project Perhaps you've been a victim of a dating scam?
This site uses cookies to store information on your computer. To find out more about our cookies and how to manage them, take a look at our Cookie Information page. By using our site, you agree to our use of cookies and the terms of our Privacy Policy. Some cookies on this site are essential, and the site won't work as expected without them. These cookies are set when you submit a form, login or interact with the site by doing something that goes beyond clicking on simple links. We also use some non-essential cookies to anonymously track visitors or enhance your experience of the site.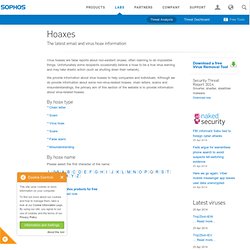 Hoaxes - Email and virus hoax information
BreakTheChain.org - Stop Junk E-mail and Misinformation
Above: Photo of Bill Gates holding a sign reading, "As some of you may know, I'm Bill Gates. If you click that share link, I will give you $5,000. I always deliver, I mean, I brought you Windows XP, right?" Sorry to break it to the tens of thousands of folks who've already spammed it all over Facebook, but this is a Photoshop prank, and a fairly obvious one at that. In the original, undoctored image, taken in February 2013 during an AMA session on Reddit.com, the sign simply said, "Hi Reddit, This is Bill Gates." Cf.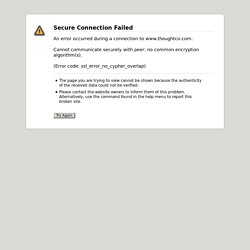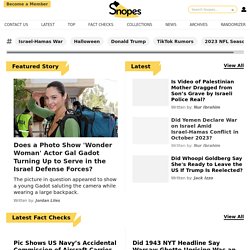 Welcome to snopes.com, the definitive Internet reference source for urban legends, folklore, myths, rumors, and misinformation. Use the search box above to locate your item of interest, or click one of the icons below to browse the site by category. Urban Legends Reference Pages © 1995-2014 by snopes.com. This material may not be reproduced without permission. snopes and the snopes.com logo are registered service marks of snopes.com.