Création de représentations graphiques
Infographies complexes & interactives. Outils à dimension collaborative. Diagrammes uniquement. Many Eyes. Try out the newest version of IBM Many Eyes!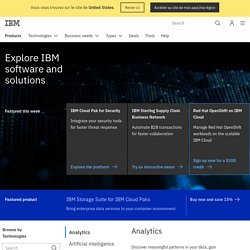 New site design and layout Find visualization by category and industry New visualization expertise and thought leadership section Expertise on the Expert Eyes blog Learn best practices to create beautiful, effective visualizations New, innovative visualizations from the visualizations experts of IBM Research New visualization options. Social Visualization Software Review: IBM Many Eyes - informatio.
As we announced a few months ago, we will be starting a new feature aimed at reviewing visualization tools.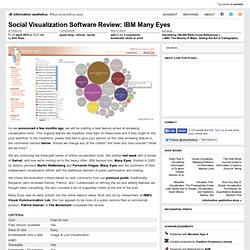 This ongoing feature will hopefully shed light on these tools and if they might fit into your workflow. In the meantime, please feel free to give your opinion on this new reviewing feature in the comments section below. Should we change any of the criteria? Rich Chart Live - Create enjoyable and captivating Flash Charts. Améliorez vos graphiques avec Rich Chart Live. Chartle.net - interactive charts online! Chartle.net: (Another) Social Interactive Charts Portal - inform. The social data visualization space greets another member.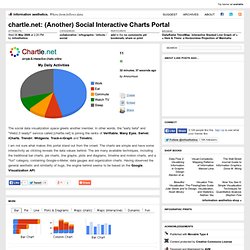 In other words, the "early beta" and "Web2.0 ready! " service called [chartle.net] is joining the ranks of Verifiable, Many Eyes, Swivel, iCharts, Trendrr, Widgenie, Track-n-Graph and Timetric.
---
moktarama Jun 14 2010

Outils en ligne ou logiciels permettant de créer un grand nombre de représentations, graphes et autres courbes. En minorité, logiciels et outils plus élaborés allant jusqu'à la création d'infographies interactives.
---