Création de représentations graphiques
Infographies complexes & interactives
Outils à dimension collaborative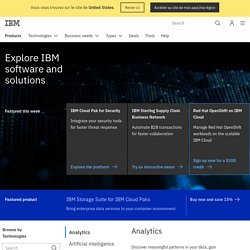 Try out the newest version of IBM Many Eyes! New site design and layout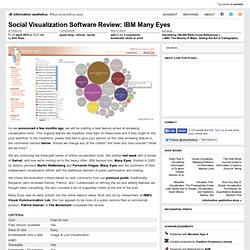 Social Visualization Software Review: IBM Many Eyes - informatio
As we announced a few months ago, we will be starting a new feature aimed at reviewing visualization tools.
Rich Chart Live - Create enjoyable and captivating Flash Charts
Améliorez vos graphiques avec Rich Chart Live
Moins puissant toutefois que les outils UGC. by moktarama Dec 18
En tant qu'outil non collaboratif, indéniablement le plus puissant et pratique : pas d'enregistrement nécessaire, ergonomique, rapide à comprendre, vous laisse proporiétaire de vos représentation. by moktarama Dec 17
The social data visualization space greets another member. In other words, the "early beta" and "Web2.0 ready!" service called [chartle.net] is joining the ranks of Verifiable, Many Eyes, Swivel, iCharts, Trendrr, Widgenie, Track-n-Graph and Timetric.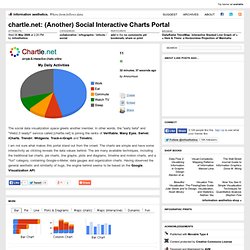 chartle.net: (Another) Social Interactive Charts Portal - inform
Comparative reviews, how-to, tips, etc...