Outils à dimension collaborative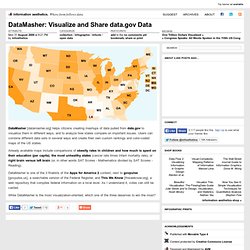 DataMasher [datamasher.org] helps citizens creating mashups of data pulled from data.gov to visualize them in different ways, and to analyze how states compare on important issues. Users can combine different data sets in several ways and create their own custom rankings and color-coded maps of the US states. Already available maps include comparisons of obesity rates in children and how much is spent on their education (per capita), the most unhealthy states (cancer rate times infant mortality rate), or right brain versus left brain (or, in other words SAT Scores - Mathematics divided by SAT Scores - Reading).
DataMasher: Visualize and Share data.gov Data - information aest
Faciliter l'accès à l'information pour favoriser de meilleures politiques économiques. C'est autour de cet objectif commun que le Centre de développement de l'OCDE et le site Internet Swivel.com ont conclu un partenariat visant à faciliter l'accès à la base de données Égalité homme-femme, Institutions et Développement (EID-BD) afin de sensibiliser les internautes sur ce sujet d'actualité croissante. Ces derniers pourront ainsi constater les corrélations entre les inégalités hommes-femmes et d'autres problématiques importantes auxquelles la société se trouve aujourd'hui confrontée. Ils pourront ensuite échanger, discuter et débattre entre eux pour mieux comprendre les disparités hommes-femmes dans le monde et militer en faveur de politiques plus effectives qui pourront contribuer à améliorer la condition féminine dans le monde.
Le Centre de développement de l'OCDE et Swivel.com s'associent p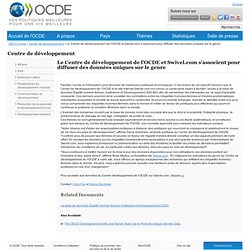 OECD Development Centre - Swivel
Social Visualization Software Review: Swivel - information aesth
As Google (Public Data Explorer) and Microsoft (Pivot) are getting into the mix of online data visualization tools, it is evident that this is a realm to carefully watch. Public data is de rigeur and blogs in this field are becoming ubiquitous, hence the perfect storm for online visualization. While public data is not necessary for online viz, it certainly makes it easy for the masses to enter the fray of data analytics.
Relief » Swivel : partage de données et graphiques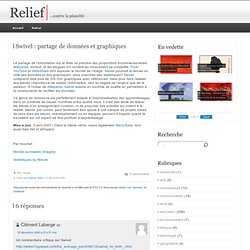 Le partage de l'information sur le Web va prendre des proportions incommensurables. Wikipedia, surtout, et les blogues ont conféré au mouvement sa crédibilité. Flickr, YouTube et SlideShare font exploser le monde de l'image. Swivel poursuit la lancée du côté des données et des graphiques. Vous cherchez des statistiques?
Swivel: I'm Intrigued...and C
Blog de Swivel
Today, you will find 900 billion charts offline but only 40 million charts online. Because of that, iCharts believes it currently must be too difficult to bring charts online. So it has developed an easy way to create, share, and embed interactive charts.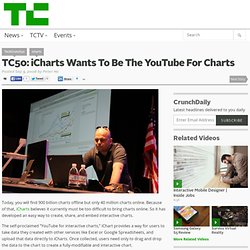 TC50: iCharts Wants To Be The YouTube For Charts
iCharts: YouTube for Interactive Charts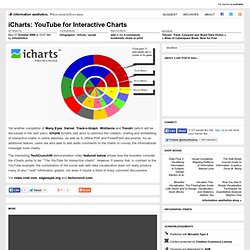 Yet another competitor of Many Eyes, Swivel, Track-n-Graph, WidGenie and Trendrr (which will be discussed in the next post): iCharts [icharts.net] aims to optimize the creation, sharing and embedding of interactive charts in online websites, as well as in offline PDF and PowerPoint documents.
Timetric Blog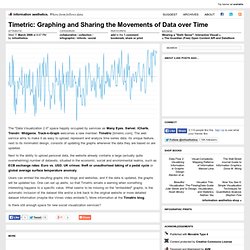 The "Data Visualization 2.0" space happily occupied by services as Many Eyes, Swivel, iCharts, Trendrr, Widgenie, Track-n-Graph welcomes a new member: Timetric [timetric.com].
Timetric: Graphing and Sharing the Movements of Data over Time -