Outils d'organisation et de classification
Une carte conceptuelle (ou schéma conceptuel, concept map en anglais), dont les variantes sont la mind map, carte des idées ou carte heuristique, est un diagramme qui représente les liens entre différents concepts. Elle peut être également appelée schéma de pensée, carte mentale, arbre à idées ou topogramme. La différence entre une carte heuristique et une carte conceptuelle est que cette dernière relie un ensemble de concepts entre eux par des lignes orientées et qualifiées (est un composant de.., favorise).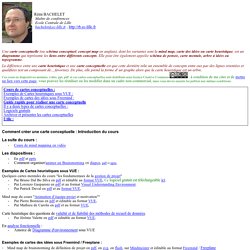 Cartes d'idées - "mindmapping"
Have you ever used Print Screen to capture screen? Have you ever used MS Paint or another Graphical Editor to edit your screen capture? Have you ever saved captured screenshot to disk, opened e-mail or FTP client or web - browser to upload it onto public server to obtain opportunity to get a link and distribute it? Have you ever calculated how much time you spend performing these simple actions?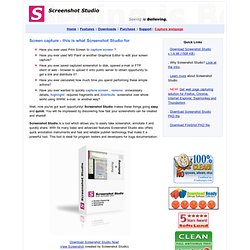 Quick Screen Capture tool. Take Screenshots, Edit and Share them
Twine: la petite histoire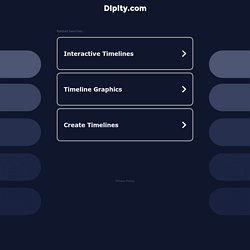 What is Dipity? Dipity is a free digital timeline website. Our mission is to organize the web's content by date and time. Users can create, share, embed and collaborate on interactive, visually engaging timelines that integrate video, audio, images, text, links, social media, location and timestamps. Who is Dipity for? Dipity timelines are for anyone who uses the Internet.
Collect, Process and Share Your Online Research with Trailmeme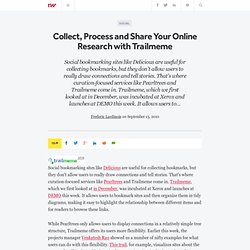 Social bookmarking sites like Delicious are useful for collecting bookmarks, but they don't allow users to really draw connections and tell stories. That's where curation-focused services like Pearltrees and Trailmeme come in. Trailmeme, which we first looked at in December, was incubated at Xerox and launches at DEMO this week. It allows users to bookmark sites and then organize them in tidy diagrams, making it easy to highlight the relationship between different items and for readers to browse these links.
SANTA CLARA, Calif.--When it comes to bookmarks, most browsers use the same system for organization: folders and tags. A new Xerox-incubated company called Trailmeme is taking a different approach by putting Web pages in a nested hierarchy that can show how they're related. The goal is to create a browsing experience with context, and one that can be shared with others.
Trailmeme creates retraceable, social Web history | Web Crawler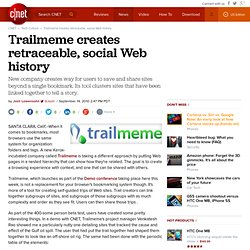 Pearltrees in the French Medias
forum feedback pearltrees