Official & unofficial answers from the US government
[July 16] State Department warns employees about new website highlighting Top Secret facilities. The State Department is bracing for a potentially explosive new feature on the Washington Post website that would publish the names and locations of agencies and firms conducting Top Secret work on behalf of the U.S. government, according to the copy of an email obtained by The Cable. The Diplomatic Security Bureau at State sent out a notice Thursday to all department employees warning them to protect classified information and reject inquiries from the press when the new web feature goes live. "The Washington Post plans to publish a website listing all agencies and contractors believed to conduct Top Secret work on behalf of the U.S. Government," the notice reads. [July 19] Acting Director of National Intelligence, David C. Gompert, reaction to the Washington Post series. [July 19] Intelcrats' Awesomely Bad Pushback to 'Top Secret America' | Danger Room.
This, for instance, is how the top intelligence office responds to the "myth" that intel contractors perform "inherently governmental" activities: The Intelligence Community does not condone or permit contract personnel to perform inherently governmental intelligence work, as defined by OMB Circular A-76 revised, and reinforced recently in Intelligence Community Directive 612.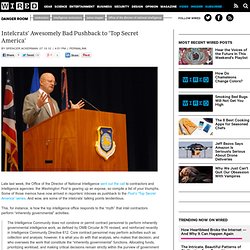 Core contract personnel may perform activities such as collection and analysis; however, it is what you do with that analysis, who makes that decision, and who oversees the work that constitute the "inherently governmental" functions. Allocating funds, prioritizing workload, and making critical decisions remain strictly within the purview of government employees.
See? We're not hiring corporations to make the government run! [July 20] Intel Chief: Don't Get 'Shrill' About Spooks-for-Hire | Danger Room. Some of America's spy agencies probably rely too much on outside companies.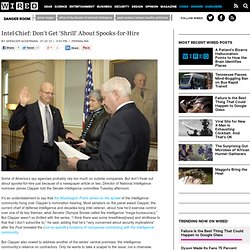 But don't freak out about spooks-for-hire just because of a newspaper article or two, Director of National Intelligence nominee James Clapper told the Senate intelligence committee Tuesday afternoon. It's an understatement to say that the Washington Post's series on the sprawl of the intelligence community hung over Clapper's nomination hearing.
---