Observations sociologiques du web & des internautes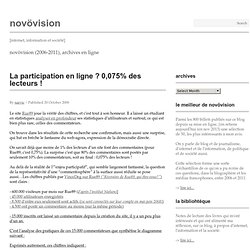 Le site Rue89 joue la vérité des chiffres, et c'est tout à son honneur. Il a laissé un étudiant en statistiques analyser en profondeur ses statistiques d'utilisateurs et surtout, ce qui est bien plus rare, celles des commentateurs. On trouve dans les résultats de cette recherche une confirmation, mais aussi une surprise, qui bat en brèche le fantasme du web-agora, expression de la démocratie directe.
La participation en ligne ? 0,075% des lecteurs ! | novövision
Let me advance a proposition for you. It's going to be a controversial one. Ready? The proposition is this: the Internet is really important! OK, so I'm joking -- sort of. That tagline sounds so ... 2006.
The Internet is Underrated: A Note on Activism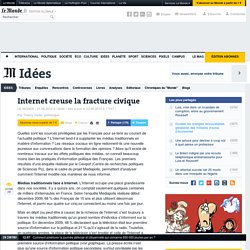 LE MONDE | • Mis à jour le | Par Thierry Vedel, politologue Quelles sont les sources privilégiées par les Français pour se tenir au courant de l'actualité politique ? L'Internet tend-il à supplanter les médias traditionnels en matière d'information ? Les réseaux sociaux en ligne redonnent-ils une nouvelle jeunesse aux conversations dans la formation des opinions ?
[France] Internet creuse la fracture civique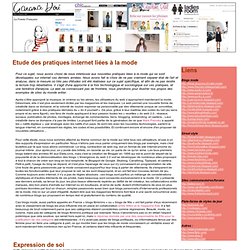 Pour ce sujet, nous avons choisi de nous intéresser aux nouvelles pratiques liées à la mode qui se sont développées sur internet ces derniers années. Nous avons fait le choix de ne pas vraiment séparer état de l'art et analyse, dans la mesure où très peu d'études ont été réalisées sur ce sujet spécifique, et afin de ne pas rendre la lecture trop rébarbative. Il s'agit d'une approche à la fois technologique et sociologique sur ces pratiques, et une tentative d'analyse. Le web ne connaissant pas de frontière, nous prendrons pour illustrer nos propos des exemples de sites du monde entier. Après s'être approprié la musique, le cinéma ou les séries, les utilisateurs du web s'approprient maintenant la mode.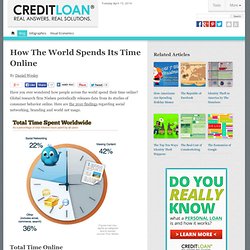 [2010] How The World Spends Its Time Online |
Have you ever wondered how people across the world spend their time online? Global research firm Nielsen periodically releases data from its studies of consumer behavior online. Here are the 2010 findings regarding social networking, branding and world net usage.
[2010] Influence and Passivity in Social Media - HP Labs Research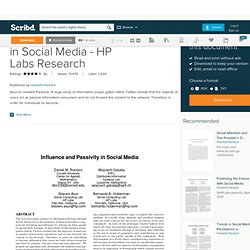 Generating the input graph. There are many ways of defining the influence graph ). We choose toconstruct it by taking into account retweets and the followergraph in the following way: The nodes are users who tweetedat least 3 URLs. The arc ( i,j
Over the past year I've been following the work of Dr. Bernardo Huberman, director of HP Labs' Social Computing Lab, and his team. HP has been applying rigorous scientific practices to the study of social media and it has a gold mine of research open to the public. It is worth emphasizing that HP's studies are designed to the highest scientific standards; they are not isolated case studies or the musings of a "social media expert." They typically involve very large numbers of people and thus they reveal some fundamental aspects of our increasingly online culture.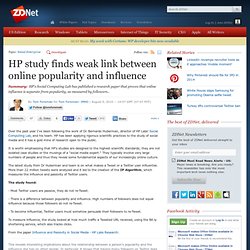 HP study finds weak link between online popularity and influence
Social dynamics in online cultural fields