[2008-2010] Meltdown & Bailout (and related affairs)
[2008] Bringing Down Bear Stearns | Politics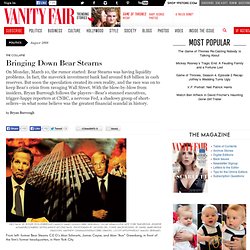 On Monday, March 10, Wall Street was tense, as it had been for months.
The Feds vs. Goldman | Rolling Stone Politics
[2009] The Quiet Coup - Magazine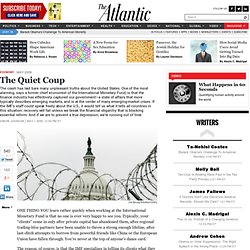 The crash has laid bare many unpleasant truths about the United States. One of the most alarming, says a former chief economist of the International Monetary Fund, is that the finance industry has effectively captured our government—a state of affairs that more typically describes emerging markets, and is at the center of many emerging-market crises. If the IMF's staff could speak freely about the U.S., it would tell us what it tells all countries in this situation: recovery will fail unless we break the financial oligarchy that is blocking essential reform. And if we are to prevent a true depression, we're running out of time. Jim Bourg/Reuters/Corbis One thing you learn rather quickly when working at the International Monetary Fund is that no one is ever very happy to see you.
Edstrom_MortgageSecuritization_POSTER_17_x_22_v4_1.jpg (JPEG Image, 1237x1600 pixels) - Scaled (40
[2010] Wall Street's Bailout Hustle | Rolling Stone Politics
Senior partner Sidney Weinberg in 1957. From The New York Times/Redux. As the firm grew, it developed a unique culture, characterized by impossibly hard work, loyalty, secrecy, and a lack of flashiness.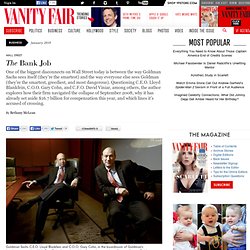 [2010] Bethany McLean on Goldman Sachs (January 2010) | Business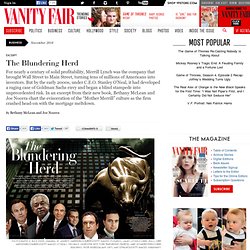 [2010] The Blundering Herd | Business
Excerpted from All the Devils Are Here, by Bethany McLean and Joe Nocera, to be published this month by Portfolio, a member of Penguin Group (USA) Inc.; © 2010 by the authors. In the years leading up to the financial crisis of 2008, there was no more infectious disease on Wall Street than Goldman envy. Goldman Sachs, perhaps the most storied name in all of American finance, had gone public only in 1999, the last of the big firms to do so. After the I.P.O., Goldman's mind-boggling profits were on full display.
[2010] Jamie Dimon - America's Least-Hated Banker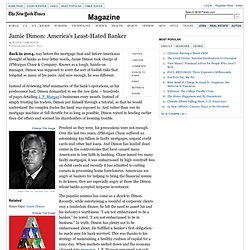 Prudent as they were, his precautions were not enough. Over the last two years, JPMorgan Chase suffered an astonishing $51 billion in faulty mortgages, unpaid credit cards and other bad loans.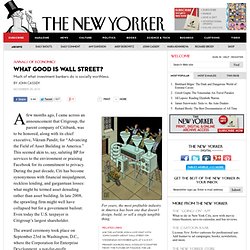 A few months ago, I came across an announcement that Citigroup, the parent company of Citibank, was to be honored, along with its chief executive, Vikram Pandit, for "Advancing the Field of Asset Building in America." This seemed akin to, say, saluting BP for services to the environment or praising Facebook for its commitment to privacy.
By Dylan Matthews
[2010] What's a dollar of stimulus worth?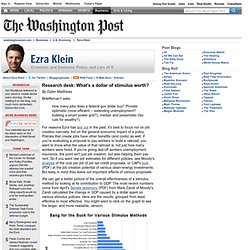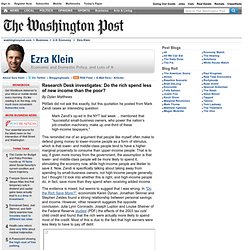 By Dylan Matthews PtitSeb did not ask this exactly, but this quotation he posted from Mark Zandi raises an interesting question:
[2010] Do the rich spend less of new income than the poor?