Data-journalisme, infographie & programmation
Get flash to fully experience Pearltrees
The New York Times infographic approach
News profession has always been data-driven, says Cambridge-based data start-up Data is at the heart of journalism, and we're not just talking about computer assisted reporting methods: it has always been at the heart of news demand. Numbers fuel sport, business and weather reports, some of the most popular news content.
Souvenez-vous… il y a quelques années, le contenu était considéré comme la matière première du web : Celui qui maîtrisait le contenu maitrisait le web (les portails qui agrégeaient de très nombreuses sources de contenu concentraient également l'audience). Puis il y a eu MySpace, les Skyblogs, Facebook, Twitter, FourSquare… et maintenant il parait que c'est la communauté qui est reine.
Ce billet a été rédigé par Benoit Vidal , étudiant en 4ème année à l'École des Hautes Études des Technologies de l'Information et de la Communication .
Libérez les données publiques gratuitement !
A few months ago I heard ProPublica's Olga Pierce and Jeff Larson speak at the Digital Editors Network Data Meet , giving their advice on data journalism projects.
Écoutez l'entretien en VF (10min. et 28 sec.)
Distribué en librairie par Géodif, le livre est également disponible aux éditions du CFPJ, 35 rue du Louvre 75002 ainsi que sur le site des éditions du CFPJ.
L e journalisme est d'abord affaire de chair et de récit. C'est une science humaine imparfaite et subjective qui se prête difficilement à toute tentative de rationalisation informatisée...C'est ce que j'essayais d'expliquer ce dimanche 14 novembre sur les ondes de France Culture où j'ét ais invité à débattre du "data-journalisme" par Xavier Delaporte, le producteur de l'excellente émission Place de la Toile.
When the European Journalism Center first thought of organizing a round-table on data-driven journalism , they were afraid they wouldn't find 12 people to attend, said EJC director Wilfried Rütten.
The Guardian takes data journalism seriously.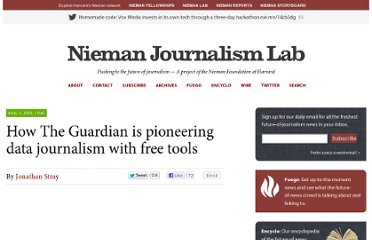 Des journalistes qui apprennent à coder, des codeurs qui apprennent le journalisme, une tendance se dessine en ce moment. Quel est l'intérêt de ces profils mixtes ?