Iran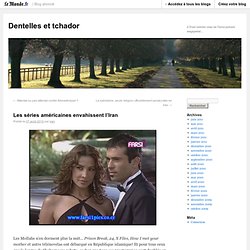 Les séries américaines envahissent l'Iran - Dentelles et tchador - Blog LeMonde.fr
Les Mollahs n'en dorment plus la nuit... Prison Break, 24, X Files, How I met your mother et autre télénovelas ont débarqué en République islamique! Et pour tous ceux que la langue de Shakespeare rebute, sachez que tous ces programmes sont doublés en persan! C'est la chaîne Farsi 1, créée cette année par le magnat australo-américain des médias Rupert Murdoch, et basée à Dubaï, qui a tenté l'audacieux pari de doubler en persan (farsi) toutes les plus grandes séries US.
Les autorités viennent de lancer une nouvelle campagne contre le relâchement des mœurs dans la société. Un tour de vis inattendu alors que le pays est déjà sous tension. De Mechhed Quand les jeunes femmes iraniennes sortent dans la rue ces jours-ci, leurs amis les préviennent qu'elles risquent de gros ennuis si elles sont maquillées ou portent des vêtements à la mode. Elles feraient bien de prendre en compte ces avertissements.
Les mollahs sont les rois de la morale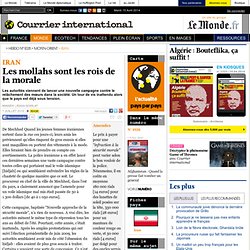 La rupture entre Ahmadinejad et les religieux
[2010] Iran enhances its capacity to shut down the global oil supply
Early this summer, while walking in the Alborz Mountains outside Tehran, I came across three members of Iran's reformist Green Movement. It was a parching-hot afternoon, and they had taken shelter from the heat in a cherry orchard next to a stream, where fruit hung glistening from the branches. The Alborz Mountains have long provided refuge, clean air, and exercise for the residents of north Tehran. The northern districts are more prosperous than the rest of the city, and their residents are generally more educated and aware of foreign ideas and trends. North Tehran was not the only locus of the Green Movement, but support there was particularly intense last summer after the conservative hard-liner Mahmoud Ahmadinejad claimed victory in the disputed Presidential elections.
[2010] Reform, repression in Mahmoud Ahmadinejad's Iran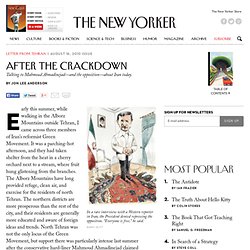 [2010] En Iran, qui est in, qui est out? » Article » OWNI, Digital Journalism
La censure du web telle qu'on la connaît est-elle oboslète? Présenté comme un modèle du genre, le régime des mollahs plancherait sur un projet d'intranet national, qui lui permettrait de remplir ses objectifs géopolitiques. "Avec l'aide de Dieu, j'essaierai sans réserves de circonscrire la longueur de mes billets à 15 minutes de lecture". Quand il a lancé son blog à l'été 2006, le président iranien Mahmoud Ahmadinejad entendait jouer les médiateurs républicains au sein de l'une des théocraties les plus répressives du monde. Perché sur les contreforts de la censure, il dispensait ses diatribes anti-impérialistes et délivrait des prêches sans fin à ses concitoyens. Las, l'identité numérique du leader iranien s'est vite fait seppuku, le 30 novembre 2007, date de son dernier post.
Journée de l'Ashura : 27 décembre 2009