#2 : International newspapers got preview
Which media got preview ?
It was several days after the previously reported Monday release, and earlier than some more recent indications, but WikiLeaks finally released its 391,832 "war logs" files from the Iraqi War. As with the previous leak, The Guardian was at the forefront with a major, well-organized web release . The document dump is by far the largest release of classified war documents in American history, and centers around field reports detailing civilian killings , friendly fire incidents , and killings of insurgents who were trying to surrender . The documents revealed 15,000 previously unreported killings, and underscored that the military actually had been keeping track of civilian deaths, despite claims that no such counts were being made. Another major revelation surrounded a standing order that existed ordering US military personnel not to investigate the rampant torture by Iraqi security forces .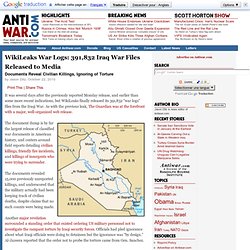 Iraq: The war logs | World news
Frago 242 – a licence to torture Link to video: The Torture Trail: What did General Petraeus's special advisor, James Steele, know? A prisoner was kneeling on the ground, blindfolded and handcuffed, when an Iraqi soldier walked over to him and kicked him in the neck . A US marine sergeant was watching and reported the incident, which was duly recorded and judged to be valid.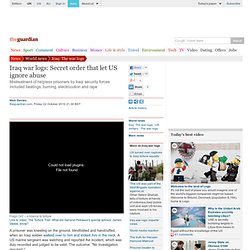 Secret order that let US ignore abuse | World news
Infography : every death mapped | World news
The War Logs - WikiLeaks Documents - Interactive Feature
Introduction : The Strands of a War - Iraq War Logs - WikiLeaks Documents
Click on the headlines to read the responses to SPIEGEL provided by Pentagon Press Secretary Geoff Morrell ...
FAQs: What the Logs Really Say - SPIEGEL ONLINE - News - International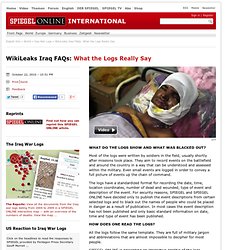 Infography : 2004 to 2009
Enthüllung von US-Geheimdokumenten: Die Irak-Protokolle - SPIEGEL ONLINE - Nachrichten - Politik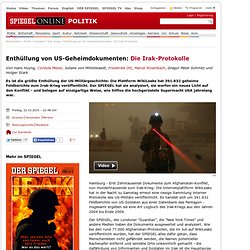 Hamburg - Erst Zehntausende Dokumente zum Afghanistan-Konflikt, nun Hunderttausende zum Irak-Krieg: Die Internetplattform WikiLeaks hat in der Nacht zu Samstag erneut eine riesige Sammlung interner Protokolle des US-Militärs veröffentlicht.
Irak : l'horreur ordinaire révélée par Wikileaks
Le Monde , conjointement avec le New York Times , le Guardian , le Bureau of investigative journalism et le Spiegel , a pu consulter en avant-première 400 000 rapports de l' armée américaine en Irak , rendus publics ce vendredi par le site Wikileaks, spécialisé dans la publication de documents confidentiels. Il s'agit des rapports d'incidents, rédigés par les officiers sur le terrain, qui constituent le fichier SIGACTS ("significant activity") des forces américaines de janvier 2004 à décembre 2009. Une masse de documents qui décrivent, jour à près jour, les attentats, les échanges de tirs, les fouilles de caches d'armes, les arrestations, et les violences contre les civils. Confidentiels, les "rapports d'incidents" ne sont pas classés secret défense . Les documents publiés par Wikileaks ne contiennent pas les rapports des forces spéciales américaines, ni les mémos des services de renseignement.
Vite Dit Les "vite dit" sont tous les contenus des médias français et étrangers qui nous semblent dignes d'être signalés. Si nécessaire, ils feront l'objet d'un traitement approfondi dans nos articles payants. La page des "vite dit" a pour fonction de donner aux non-abonnés une impression des centres d'intérêt du site.
Nouvelles révélations de Wikileaks