Inclassables
Vie de merde. Vie de meuf. John Cleese rants - Soccer vs Football. Hacked STOP Signs (Photos) While it may be illegal to deface traffic signals for a variety of reasons (violent car crashes), these stop signs feature a clever line or cliché that includes the word stop.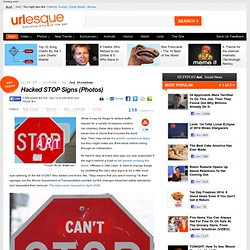 They may not be the world's coolest bus stops, but they might make you think twice before rolling through an intersection. It's hard to stop at every stop sign you see, especially if the sign's behind a bush or tall people crossing the street. Officials in Oak Lawn, IL tried to change things by modifying the city's stop signs to be a little more eye-catching. In the fall of 2007 they added one-liners like, "Stop means that you aren't moving. " to their signage, but the Illinois Department of Transportation pointed out the changes breached safety standards and requested their removal. The signs were removed in April 2008. Manuel de la photo ratée « PQR Mon Amour. 1) La date Le journalisme se nourrit de l'actualité la plus immédiate.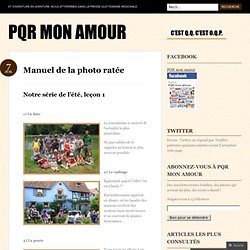 Ne pas oublier de le rappeler au lecteur le plus souvent possible. 2) Le cadrage Également appelé l'effet "où est Charly ? " Particulièrement apprécié en Alsace, où les façades des maisons revêtent des couleurs bien mystérieuses et se couvrent de plantes luxuriantes… Manuel de la photo ratée (2) « PQR Mon Amour. 1) La mise en scène Oh quelle surprise Monsieur l'agent, j'étais caché derrière ma poubelle mais vous m'avez débusqué Vous êtes vraiment un grand professionnel !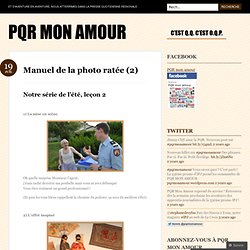 (Et puis les tons bleus rappellent la chemise du policier, ça sera du meilleur effet) 2) L'effet inopiné L'erreur ici est très subtile, ce qui la rend encore plus belle. dite l'incident du "gros con au 1er rang". The Darwin Awards. Conférence : humour soviétique.
Cette courte conférence, prononcée (virtuellement) à une autre occasion, convient parfaitement dans le cadre de ce site afin de diversifier les sujets qui y sont abordés.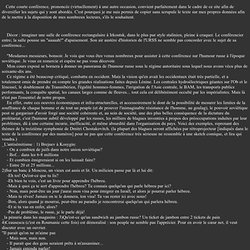 C'est pourquoi je me suis permis de copier sans scrupule le texte sur mes propres données afin de le mettre à la disposition de mes nombreux lecteurs, s'ils le souhaitent. Décor : imaginer une salle de conférence rectangulaire à Irkoutsk, dans le plus pur style stalinien, pleine à craquer. Le conférencier entre; la salle pousse un "aaaaah! " d'apaisement. Son air austère d'historien de l'URSS ne semble pas concorder avec le sujet de sa conférence...
Les blagues de l'ex-RDA : les années 70. (1970) Walter Ulbricht [président de la RDA de l'époque] interroge personnellement les gens que la police arrête parce qu'ils racontent des blagues sur lui.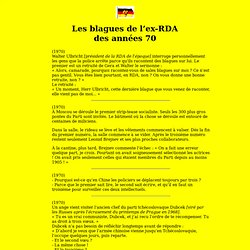 Le premier est un retraité de Gera et Walter le sermonne : « Alors, camarade, pourquoi racontez-vous de sales blagues sur moi ? Ce n'est pas gentil. Vous êtes bien pourtant, en RDA, non ? On vous donne une bonne retraite, non ? » Le retraité : « Un moment, Herr Ulbricht, cette dernière blague que vous venez de raconter, elle vient pas de moi... » Keynes vs. Hayek rap video. If a 10-pound note is lying on the ground in Davos, will a billi. This afternoon, while walking into the Congress Center, the main hub of Davos, I noticed a piece of gray paper on the floor.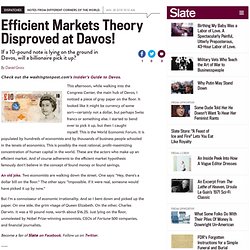 It looked like it might be currency of some sort—certainly not a dollar, but perhaps Swiss francs or something else. I started to bend over to pick it up, but then I caught myself. This is the World Economic Forum. It is populated by hundreds of economists and by thousands of business people schooled in the tenets of economics. This is possibly the most rational, profit-maximizing concentration of human capital in the world. Petit florilège d'humour catho - Agir - Vivre en chrétien. Old Jews Telling Jokes.
---