Grèce
[2010] Pékin fait son nid en Grèce. La Chine, au secours de la Grèce ?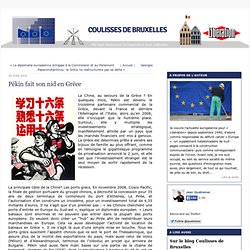 En quelques mois, Pékin est devenu le troisième partenaire commercial de la Grèce, devant la France et derrière l'Allemagne et l'Italie, alors qu'en 2006, elle n'occupait que la huitième place. Surtout, elle y multiplie les investissements stratégique, manifestement attirée par un pays que les marchés financiers ont mis à genoux. [2010] Piraeus lance la consolidation bancaire en Grèce - Economie. Flash Eco : Piraeus: 701M pour 2 banques grecques. Piraeus a soumis une offre combinée au gouvernement grec pour prendre le contrôle d'ATEBank et d'Hellenic Postbank, dans le cadre d'une offre de 701 millions d'euros qui donnerait naissance au premier groupe bancaire grec en cas de succès, selon le P-DG de Piraeus.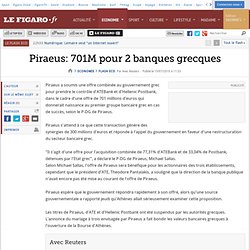 Piraeus s'attend à ce que cette transaction génère des synergies de 300 millions d'euros et réponde à l'appel du gouvernement en faveur d'une restructuration du secteur bancaire grec. "Il s'agit d'une offre pour l'acquisition combinée de 77,31% d'ATEBank et de 33,04% de Postbank, détenues par l'Etat grec", a déclaré le P-DG de Piraeus, Michael Sallas. Selon Michael Sallas, l'offre de Piraeus sera bénéfique pour les actionnaires des trois établissements, cependant que le président d'ATE, Theodore Pantalakis, a souligné que la direction de la banque publique n'avait encore pas été mise au courant de l'offre de Piraeus. TT Hellenic Postbank. ATEbank. The Agricultural Bank of Greece was a commercial bank based in Athens, Greece.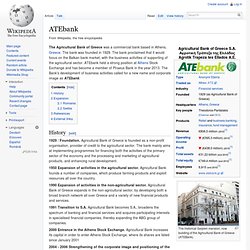 The bank was founded in 1929. The bank proclaimed that it would focus on the Balkan bank market, with the business activities of supporting of the agricultural sector. ATEbank held a strong position at Athens Stock Exchange and has become a member of Piraeus Bank in the year 2013. The Bank's development of business activities called for a new name and corporate image as ATEbank. History[edit] [2010] Beware of Greeks Bearing Bonds | Business.
After about two hours I work up the nerve to ask him.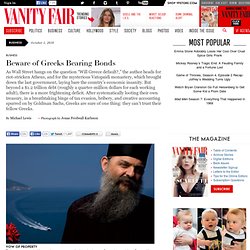 To my surprise he takes me seriously. He points to a sign he has tacked up on one of his cabinets, and translates it from the Greek: the smart person accepts. the idiot insists. [2010] Greece Is Almost Certainly "On Track" –But Towards Which Destination Is It Headed? | A Fistful of Euros. "There is a difficulty that is widely recognized that the amount [of debt] to be repaid is high in 2014 and 2015," Giorgios Papaconstantinou (the Greek Finance Minister).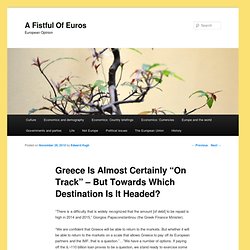 "We are confident that Greece will be able to return to the markets. But whether it will be able to return to the markets on a scale that allows Greece to pay off its European partners and the IMF, that is a question."…"We have a number of options. If paying off the €110 billion loan proves to be a question, we stand ready to exercise some of those options" – Poul Thomsen, head of the IMF team in the ECB-EU-IMF troika delegation.
---
moktarama Sep 30 2010

Miniature par Rob Williams :
---