Etats-Unis
[2010] Top Secret America. [2010] Top secret America, by The Washington Post. Pollster.com - Political Surveys and Election Polls, Trends, Cha. General Social Survey. The GSS contains a standard 'core' of demographic, behavioral, and attitudinal questions, plus topics of special interest.
Many of the core questions have remained unchanged since 1972 to facilitate time-trend studies as well as replication of earlier findings. The GSS takes the pulse of America, and is a unique and valuable resource. General Social Survey. The GSS was recently linked to the National Death Index.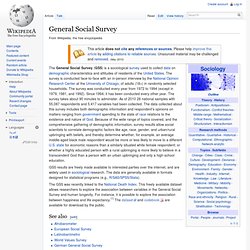 This freely available dataset allows researchers to explore the association between variables in the General Social Survey and human longevity. For instance, it is possible to explore the association between happiness and life expectancy.[1] The dataset and codebook are available for download by the public. Data.gov. Data.gov.uk Newspaper | Newspaper Club. Friday, October 16th 2009 Over the last three days we've been working on a side project.
A design exercise if you like. We've been thinking about the beta Data.gov.uk repository, and wanted to explore putting some of the information contained within into people's hands in a form that is accessible, timely, and relevant. Data.gov.uk Newspaper: Opening Up Local Information as a Newspap. The data.gov.uk Newspaper [newspaperclub.co.uk] is a tangible prototype of a potential service targeting people who recently moved into a new area, and shows information about the area, such as local services, environmental information, crime statistics, travel times, transportation options, education and healthcare.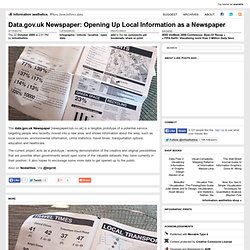 The current project acts as a prototype / working demonstration of the creative and original possibilities that are possible when governments would open some of the valuable datasets they have currently in their position. It also hopes to encourage some more data to get opened up to the public. Also on Nodalities. PatentStorm: U.S. Patents. Congress Speaks. Compare What Your Senators and Reps are Talking About With Congr. There's a lot of talking in congressional meetings, but what are your state senators and representatives talking about?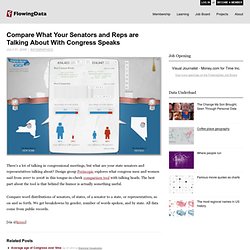 Design group Periscopic explores what congress men and women said from 2007 to 2008 in this tongue-in-cheek comparison tool with talking heads. The best part about the tool is that behind the humor is actually something useful. Compare word distributions of senators, of states, of a senator to a state, or representatives, so on and so forth.
We get breakdowns by gender, number of words spoken, and by state. All data come from public records. Congress Speaks: All Words Spoken in the 110th US Congress - inf. Congress Speaks [congressspeaks.com] is a light-hearted exploration of the more than 14,548,598 words spoken in the 110th United States Congress.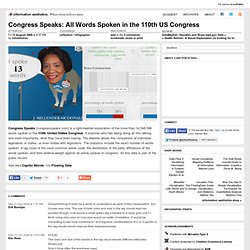 It explores who has being doing all this talking, and more importantly, what they have been saying. The website allows the comparison of individual legislators or states, or even states with legislators. USGovXML.com: Home. Data.gov is Live. Twitter is currently echoing the excitement of open data advocates and data geeks alike, due the release of data.gov, an open and free web repository that aims to provide public access to US Federal Government datasets.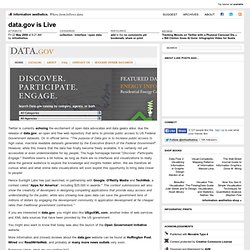 Or, in official terms: "The purpose of Data.gov is to increase public access to high value, machine readable datasets generated by the Executive Branch of the Federal Government". However, while this means that the data has finally become freely available, it is certainly not yet accessible or even understandable for lay people.
The huge homepage banner "Discover. Welcome to USAspending.gov. USAspending.gov: Where Americans Can See where their Money Goes. USAspending.gov is a new US governmental website designed in accordance to the Federal Funding Accountability and Transparency Act of 2006 (Transparency Act): it is a single searchable website, accessible by the public for free that includes for each Federal award: 1. the name of the entity receiving the award; 2. the amount of the award; 3. information on the award including transaction type, funding agency, etc; 4. the location of the entity receiving the award; 5. a unique identifier of the entity receiving the award.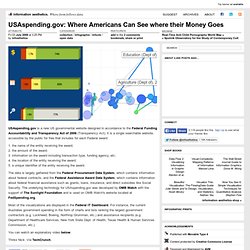 The data is largely gathered from the Federal Procurement Data System, which contains information about federal contracts, and the Federal Assistance Award Data System, which contains information about federal financial assistance such as grants, loans, insurance, and direct subsidies like Social Security. OpenSecrets.org: Money in Politics -- See Who's Giving & Who's G. OpenSecrets.org Goes OpenData. If you are interested in the momentum emerging around opening up publicly relevant datasets (are you?)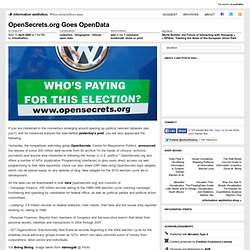 , and for instanced enjoyed the idea behind yesterday's post, you will also appreciate the following. Yesterday, the nonpartisan watchdog group OpenSecrets, Center for Responsive Politics, announced the release of some 200 million data records from its archive "to the hands of citizens, activists, journalists and anyone else interested in following the money in U.S. politics.
" OpenSecrets.org also offers a number of APIs (Application Programming Interfaces) to give users direct access via web programming to their data repository. GovernmentDocs.org -- Community Government Document Review Syste.
---