Ecrit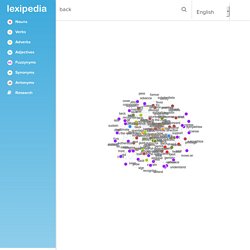 welcome n. the state of being welcome; "don't outstay your welcome" n. a greeting or reception; "the proposal got a warm welcome" v. receive someone, as into one's house v. accept gladly; "I welcome your proposals"
Outils Encyclo Dico - Outils Cartographie D'Information J'avais déjà utilisé l'expression de métadictionnaire pour qualifier Visuwords et je crois que cela s'applique aussi très bien à Lexipedia. Ce service vous permet de rechercher des mots en 6 langues différentes et en donne la traduction en anglais. Evidemment il n'aurait pas sa place sur Outils Froids s'il s'arrêtait là.
Lexipedia, le métadictionnaire multilingue et graphique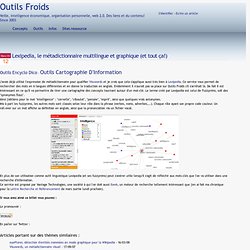 Tlfi Search Engine Plugins - Firefox & IE7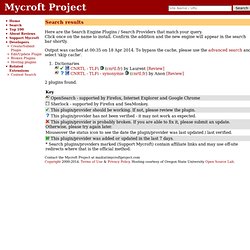 <h2>Warning</h2><p><b>JavaScript must be enabled to install a search plugin.</b><br /><b>If you have installed NoScript, you will need to allow this page to run scripts.</b><br /></p>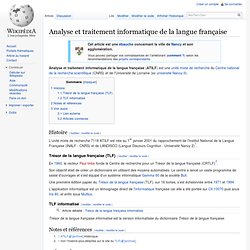 Un article de Wikipédia, l'encyclopédie libre. Analyse et traitement informatique de la langue française (ATILF) est une unité mixte de recherche du Centre national de la recherche scientifique (CNRS) et de l'Université de Lorraine (ex université Nancy-II). Histoire[modifier | modifier le code] L'unité mixte de recherche 7118 ATILF est née au 1er janvier 2001 du rapprochement de l'Institut National de la Langue Française (INALF - CNRS) et de LANDISCO (Langue Discours Cognition - Université Nancy 2)[1].
Analyse et traitement informatique de la langue française - Wiki
FREE Word Processor Based on Microsoft's WordPad Engine
Jarte \jär · 'tay\ noun (est. 2001) 1. A free word processor based on the Microsoft WordPad word processing engine built into Windows. 2. A fast starting, easy to use word processor that expands well beyond the WordPad feature set. 3. A small, portable, touch enabled word processor whose documents are fully compatible with Word and WordPad. "It's one of life's little ironies that in a country with free speech, a program called Word costs over a hundred dollars.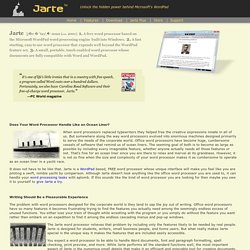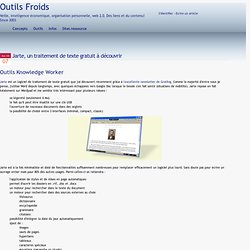 Jarte, un traitement de texte gratuit
Outils Knowledge Worker Jarte est un logiciel de traitement de texte gratuit que j'ai découvert récemment grâce à l'excellente newsletter de Gratilog. Comme la majorité d'entre nous je pense, j'utilise Word depuis longtemps, avec quelques échappées vers Google Doc lorsque le besoin s'en fait sentir (situations de mobilité). Jarte repose en fait totalement sur Wordpad et me semble très intéressant pour plusieurs raisons :